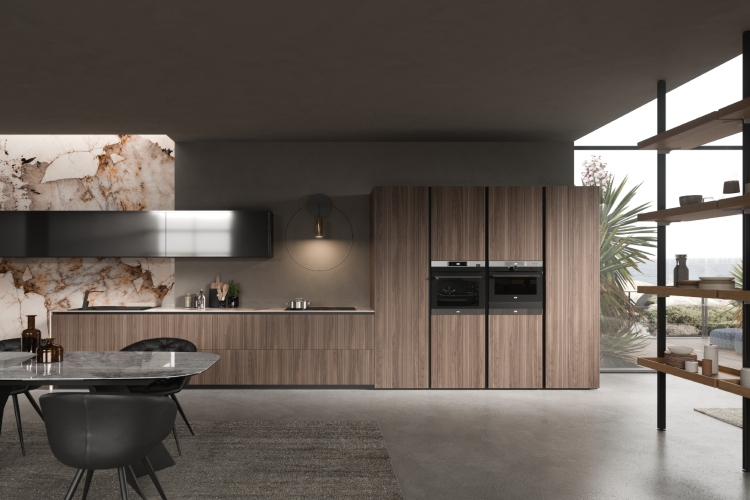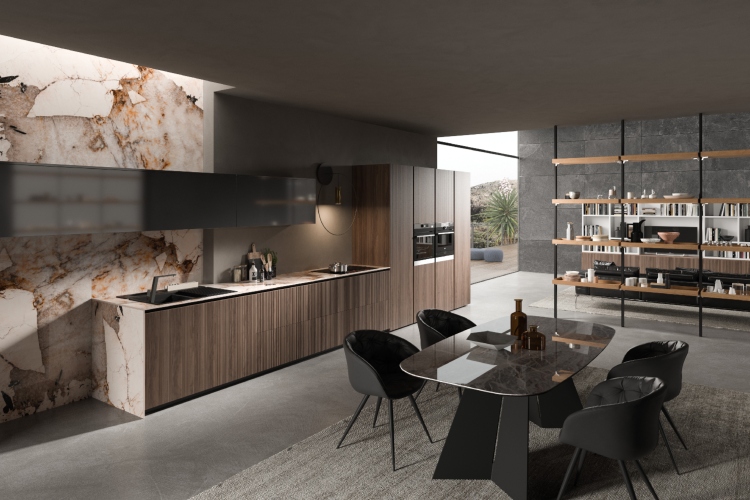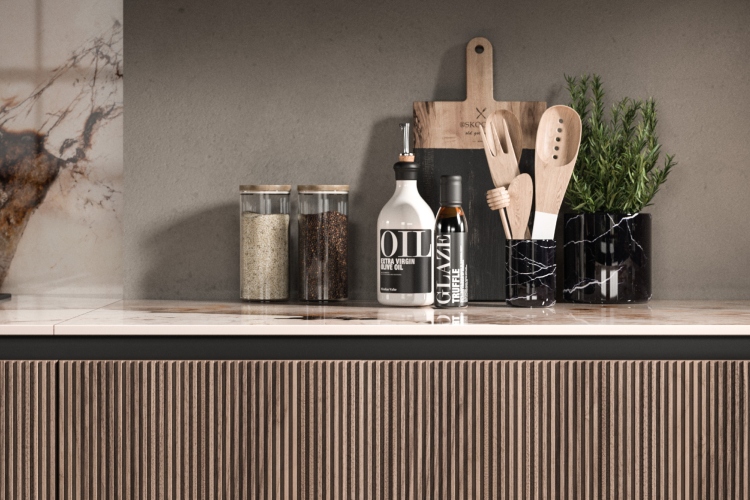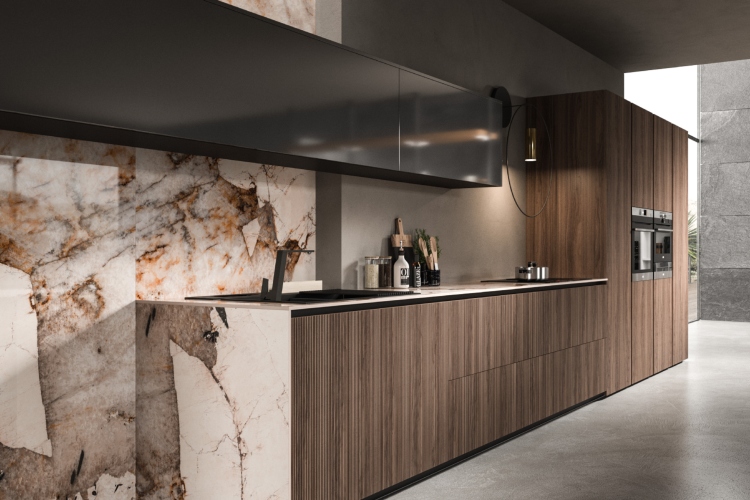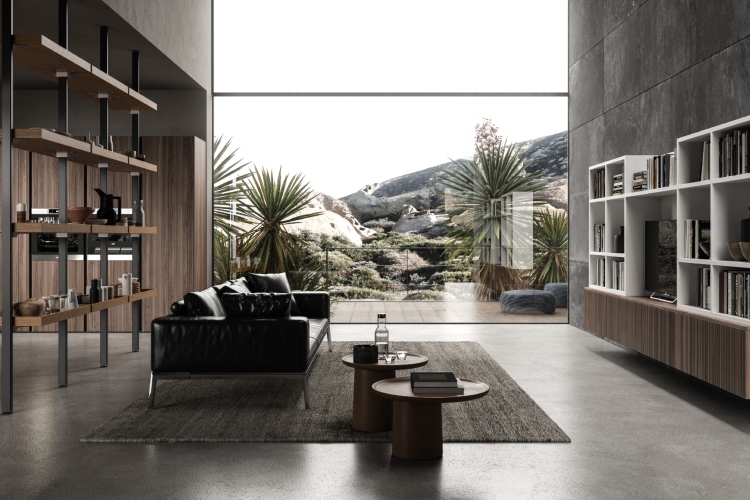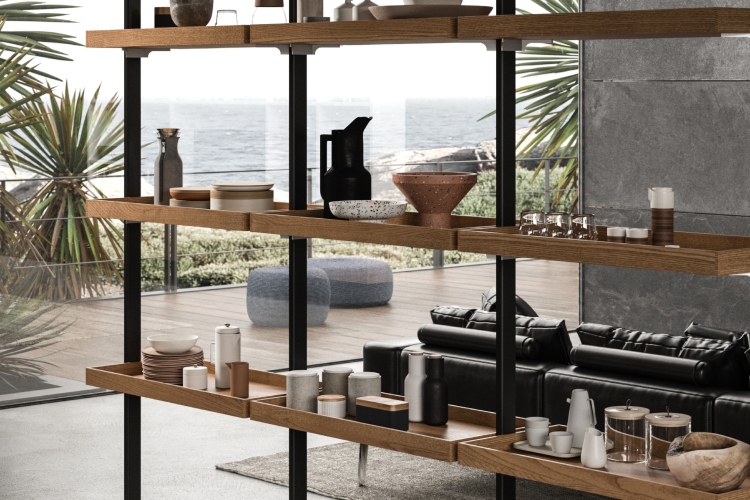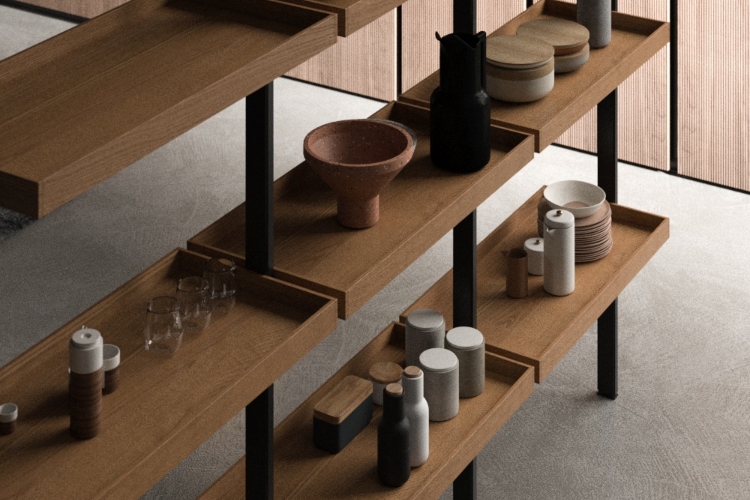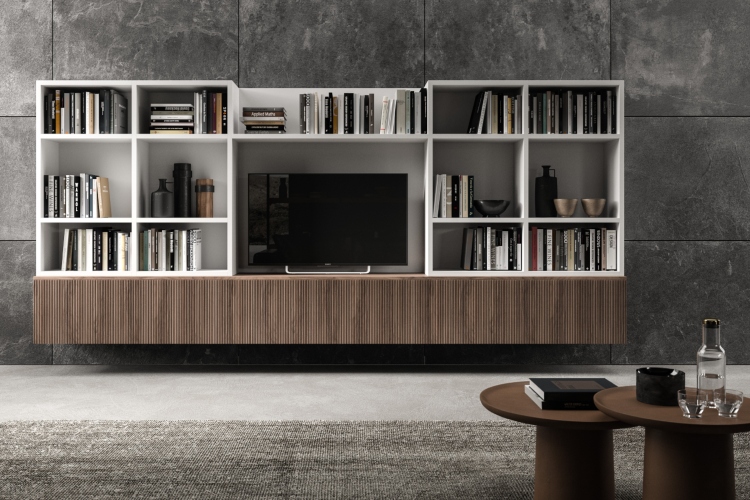 Wooden kitchens have a certain eternal appeal, expressed by their elegance that departs somewhat from tradition in order to meet the contemporary spirit of the LAB13 line of the ARAN Cucine brand...
In this new composition, the return of wood results in the scenic immediacy of the Rigoletto Plus doors made of American walnut, which were chosen for the basic cabinets in combination with aluminium elements, while in the accidentally highly positioned units they offer options that are opened by push & pull options.
Grooves, both vertical and regular, created by the woodwork, are providing dynamism and rhythm to the seemingly linear layout of the LAB13 model. The clean and simple design plays with different vibes that give a sense of movement to the areas for food preparation and hygiene. Part of this kitchen is the Dialogo kitchen sink, which is equipped with a multifunctional surface, approaching the idea of a custom-made workstation, in order to perfectly respond to all daily needs and activities. Created as a result of the expertise of the ARAN Cucine brand, the new LAB13 model with Rigoletto doors is characterized by combinations of different materials - the Magellan stone work surface extends the full length and height of the washing compartment, creating a kind of mural for this high-frequency space.
A touch of contemporary chromaticism is embodied by the wall cabinets, which are lacquered to have the effect of liquid metal and are designed with flap opening system for easier organization of kitchen utensils and useful ingredients.
The linear layout is continued in the preparation area, with a wall system that is also characterized by the presence of a Rigoletto door, ready to offer a place to install an oven or a microwave oven, so that all the necessary tools and appliances are within easy reach.
The strong character of LAB13, in its modernity, also makes a step towards the living room, with the Watch-it bookshelf that has been restyled and becomes the perfect element for furnishing the walls - seen as an element that divides the space, it was created to be hung on the ceiling, reaching a maximum height of 3 meters. Equipped with multiple shelves, depending on personal needs, it can contain natural ash elements or even additional drawers and baskets that can be varnished or left with natural finishing details.
The free-standing position of the Watch-it shelf reveals ARAN Cucine's idea of a total look thanks to the coordinated look of the living room and the kitchen - here, too, wood returns to the scene thanks to the wall-mounted system, while the Parigi coffee table with a gray stone top and Singapore chairs complete the entire space.
LAB13 represents a balanced solution for the needs of simplicity and style in interiors that seem to have been waiting for the return of wood, essential for creating projects that are increasingly taking on a contemporary spirit.