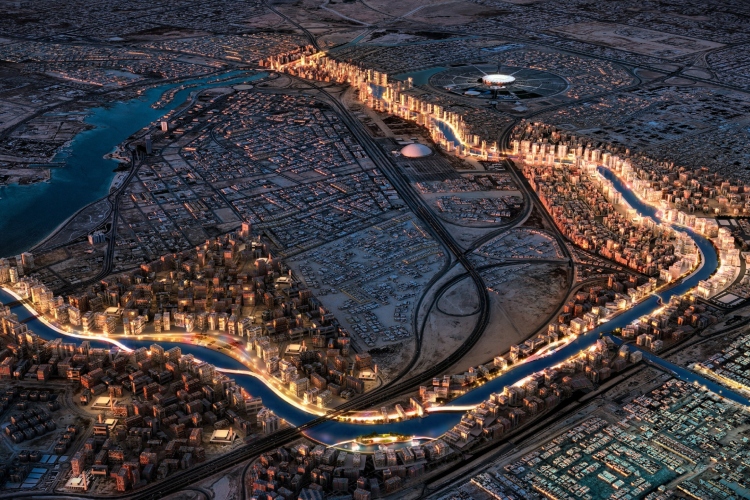 Saudi Crown Prince Mohammed bin Salman (MBS) is building an 11-kilometer-long artificial canal that will illuminate the shores of the Red Sea and accommodate 130,000 residents...
This glittering urban waterway, measuring 11 kilometers in length and 100 meters in width, will change the appearance of North Jeddah, with the waterway becoming the embodiment of urban life. From promenades along the canal to multiple residential and commercial districts, over a hundred thousand residents will live in this artificial utopia. The multi-million-dollar project will be carried out by the ROSHN Group, the most trusted developer of various types of properties in Saudi Arabia, in collaboration with the PIF.
The navigable canal is the first of its kind in this oil-rich country, accommodating over 130,000 residents and offering numerous recreational opportunities. David Grover, CEO of the ROSHN Group, emphasized the significance of the Marafy project in achieving the goals of Saudi Vision 2030: "MARAFY will change the rules of the real estate development sector, raising the bar for development in the region, improving the quality of life, and making a significant impact in Jeddah," adding that this will be one of the "iconic projects that will put Jeddah on the map as a world-class destination in every sense."
Similar to major cities like Chicago, Stockholm, Hamburg, and central London, this canal will provide a coastal area that enhances the quality of life and creates a stunning real estate and development oasis. Marafy will consist of various neighborhoods connected by urban water corridors, without compromising the city's cultural and architectural heritage. Facades will draw inspiration from the historical design of the Jeddah region, blended with a modern design language.
The Marafy Canal will also include the existing integrated residential development by the Roshn company, Alarous. The incorporation of an intermodal transportation system, including water taxis, bus lines, a dedicated Metro Red Line station, and a direct canal link to King Abdulaziz, will strengthen Jeddah's position as a regional hub.