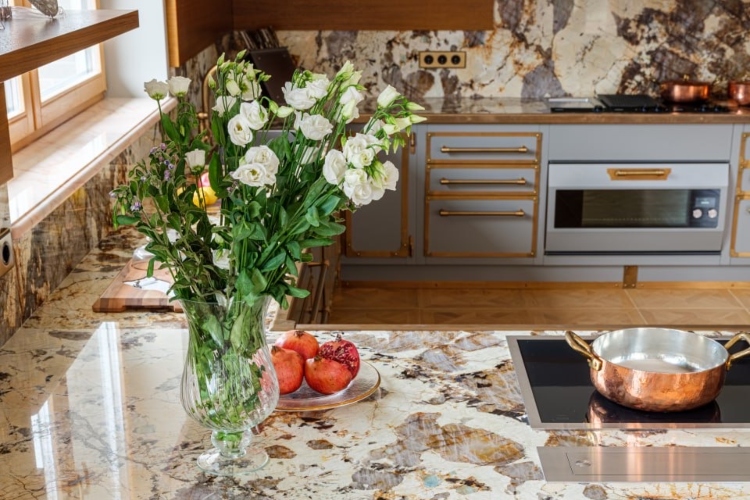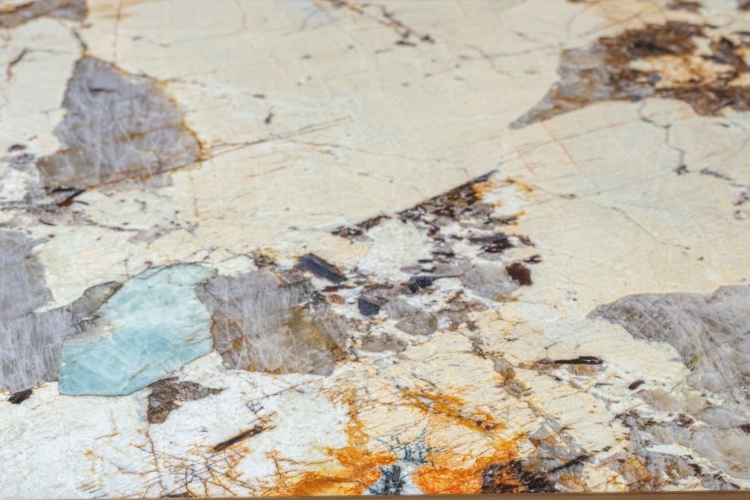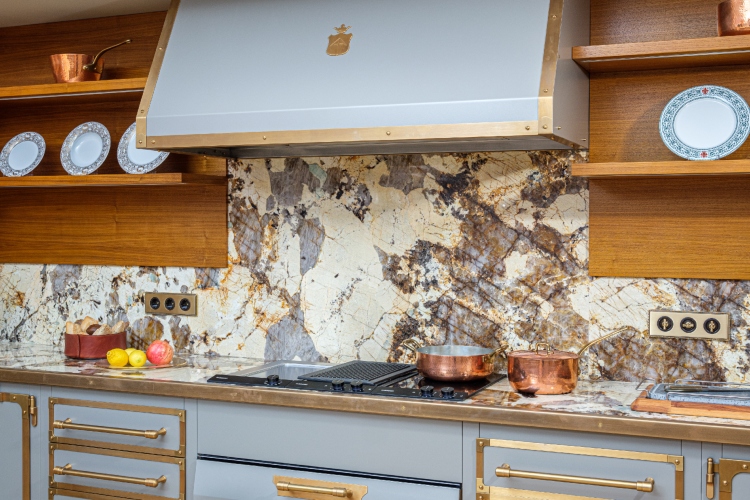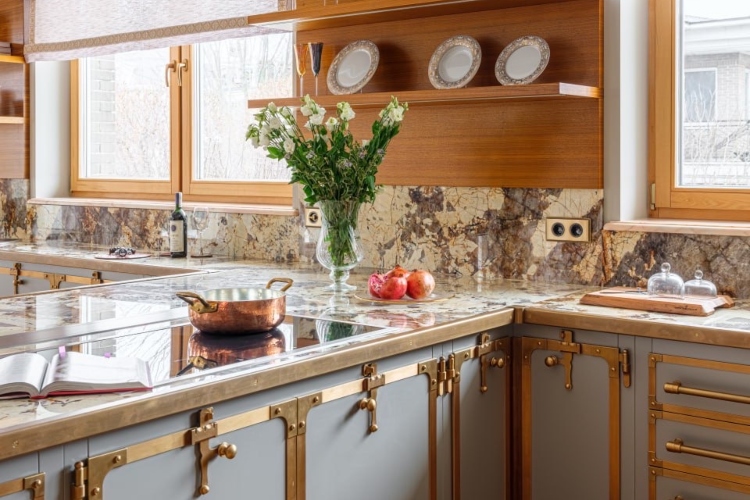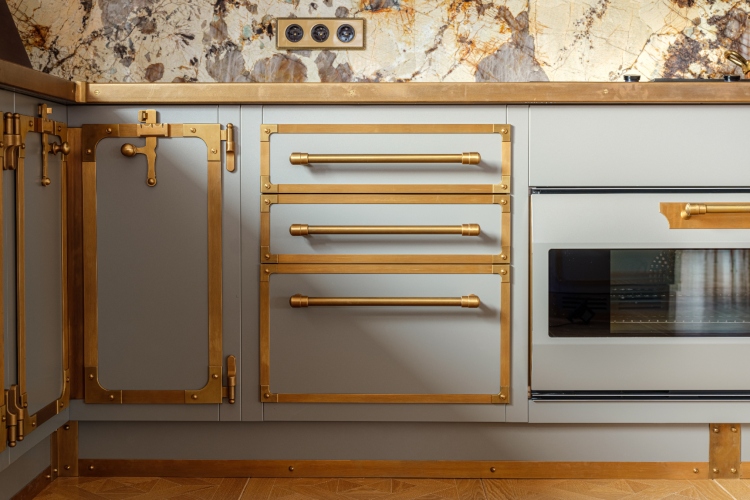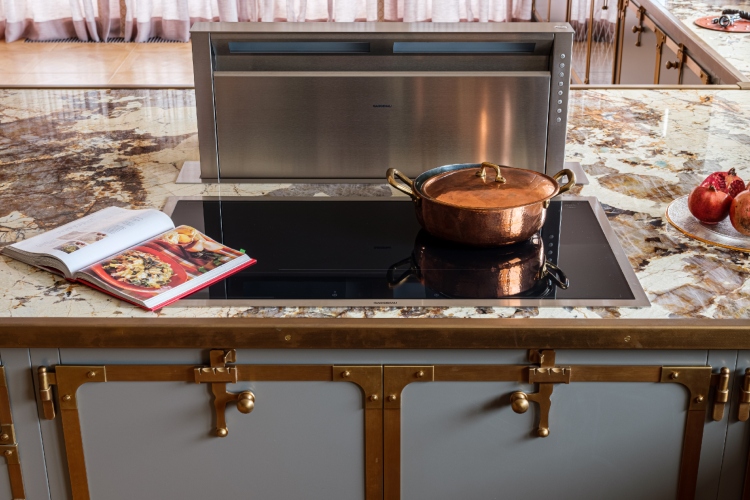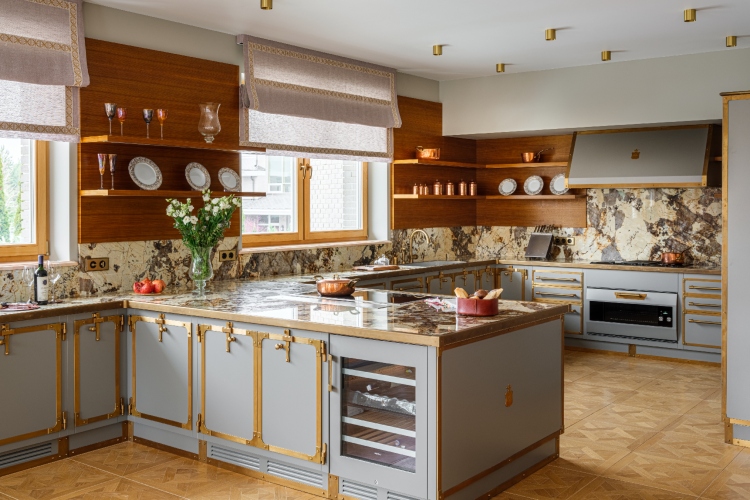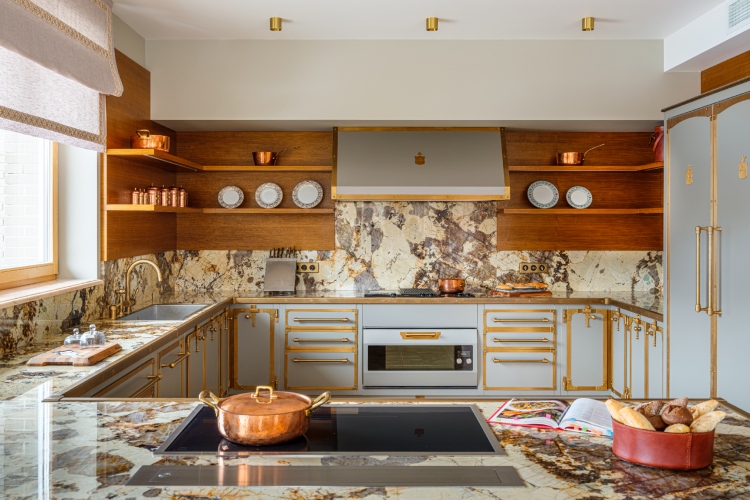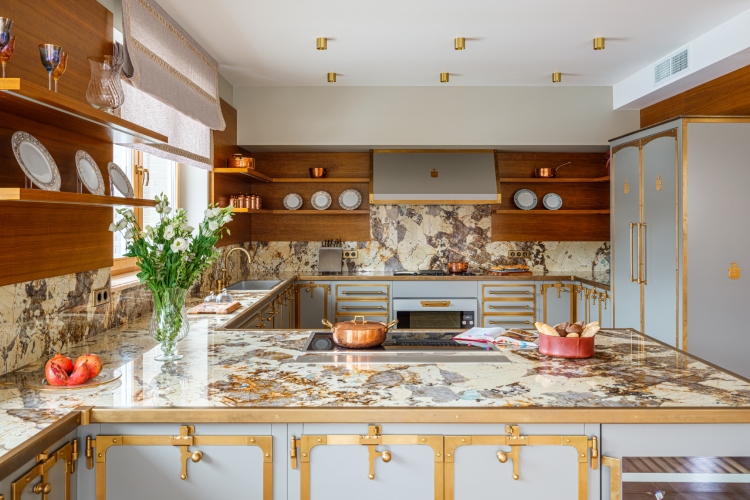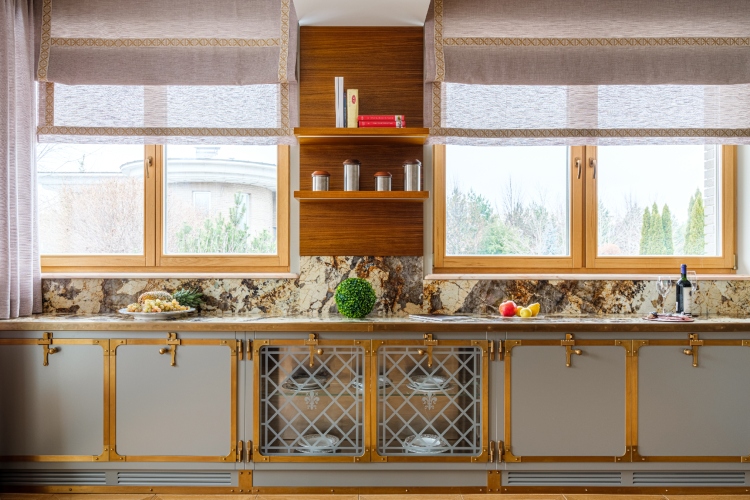 A luxurious villa on the outskirts of Moscow is home to a custom-made kitchen by the Officine Gullo brand.
Constructed entirely of stainless steel, this kitchen impeccably integrates into a space that employs various prestigious materials. Among them, Patagonia stands out – one of the most impressive natural types of stone, quartzite with graphics of rare beauty and unique patterns of shapes and colors: white, beige, light blue, and brown hues intertwined with golden veins, juxtaposed with sections of transparent gray quartzite.
This stone, which plays a pivotal role in the room, is skillfully paired with a gentle light blue (RAL 7006 MAT) shade of the kitchen's stainless steel structure, painted and finished with dark gold-plated brass profiles, handles, and details. The wood used for wall cladding and shelves, along with the light oak parquet, adds brightness and warmth to the entire room. The result is an elegant and extremely functional space.
The size of the kitchen (the main wall with the peninsula is nearly 10 meters, and the shorter wall is 4.25 meters) allowed for a U-shaped layout design with a peninsula. This highly practical composition ensures perfect utilization of the ergonomic "work triangle", that is, the proper arrangement of the three main areas of activity for easy movement: washing, cooking, and food storage. In this design, there are two cooking areas: an induction hob on the peninsula with telescopic extraction and a wall with three elements (steamer, grill, and teppanyaki plate), placed beneath a pyramidal extraction and finished with a Gaggenau oven.
Both cooking areas offer maximum freedom of movement, creating two identical and perfectly functional work triangles. Under the counter, the peninsula section contains a wine cooler and a showcase with glass doors featuring the iconic Florentine lily, a symbol of the city of Florence, the birthplace, and eternal source of inspiration for the Officine Gullo brand. The washing area is located beneath the window and consists of a stainless steel sink with a brass tap and easily movable shower. A dishwasher is installed below it.
All sides of the kitchen are connected by practical work surfaces. On the opposite side, two refrigerator and freezer columns complement the layout. Since this is a spacious kitchen with ample storage space under the counter, a deliberate decision was made not to install hanging cabinets; instead, shelves in the wall panel system were placed for a lighter final result.