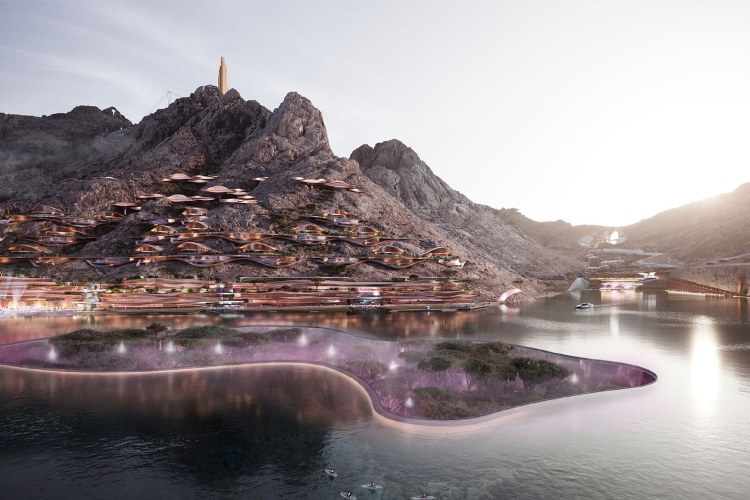 The Crown Prince of Saudi Arabia, Mohammed bin Salman, has decided to transform his country into the world's leading tourist destination. His futuristic ski resort, Trojena, which will host the 2029 Asian Winter Games, is now receiving a crystal skyscraper designed by the architectural firm Zaha Hadid...
The Crown Prince's project, Trojena, is once again in the spotlight, this time due to a spectacular skyscraper designed by the British studio Zaha Hadid Architects. The Discovery Tower, reminiscent of an antithesis to Barad-dûr (better known as the Dark Tower from "The Lord of the Rings"), represents a dazzling crystal building standing at a height of 330 meters, designed to sit atop a mountain overlooking an artificial lake within the Trojena project. Images of the skyscraper were unveiled by the Neom company at the Cityscape conference in Riyadh.
The new crystal-like structure will provide breathtaking views and become a recognizable landmark in the region. It will include observation decks, shops, exhibition spaces, and restaurants and looks fascinating, with numerous columns tapering towards the top. "Elegant and monumental, this distinctive tower will combine world-class retail, dining, and high-altitude living experiences," said the investor.
"This distinctive high-rise commercial building will provide a rich platform for innovative and technologically advanced artistic content and experiences." Trojena, a year-round ski village, is a master plan designed by the German studio, LAVA Architects. The superstructure will sit opposite the carefully designed ski centre, with a cable car connecting it to various accommodations and hotels along the lake. Discovery Tower will become a distinctive symbol for Trojena, located 50 km from the Aqaba Gulf in the Saudi mountains.
What is Trojena?
Trojena will feature a ski centre and outdoor activity hub covering an area of 60 square kilometres, divided into six different development zones. In addition to skiing, the centre will offer activities such as mountain biking and water sports. The Vault is a vertical village in Trojena interspersed with restaurants and shops. The plan envisions attractive lodges, villas, and ultra-luxury hotels capable of accommodating up to 9 million residents by 2045.
Following the introduction of Chedi Trojena, the destination will host two luxury hotel properties by Marriott International, Inc.: the first W Hotel in Saudi Arabia and a JW Marriott property. 33 times larger than New York, Trojena is expected to attract an incredible 700,000 visitors by 2030. The project is expected to be completed by 2026 and aims to create more than 10,000 jobs.