Aston Martin Residences, an ultra-high-rise building in Miami in the shape of a sail, has launched a new fleet of penthouses and residences, moving towards the completion of its construction next year…
The rounded 66-storey skyscraper featured seven penthouses out of a total of 391, which will take up space starting from the 56th floor, along with 38 smaller, Line 01 Signature Residences, starting from the fifteenth floor. The penthouses, two of which have already been sold, measure a minimum of 850 square meters, and their price ranges between 16.7 and 25 million dollars. The apartments on the lower floors, all facing the ocean, have a minimum of 360 square meters and a price of 5,525 million dollars, while they offer their tenants access to benefits that are of the closed type.
These new apartments are a supporting role, compared to the main actor in the building - the penthouse, which is worth 50 million dollars, occupies 2,700 square meters and three floors, still available for purchase, and comes with a rare Aston Martin Vulcan supercar in the package. The residences are now 75% sold out, while another 10 floors need to be built.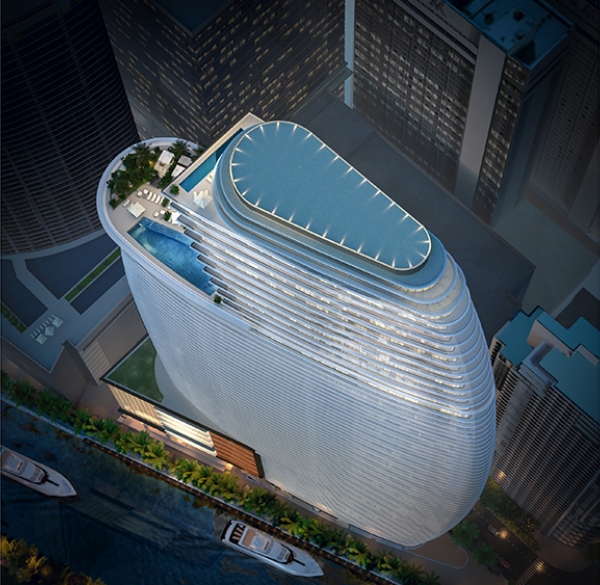 The shared amenities will occupy an area of ​​about 4,000 square meters and will be located between the 52nd and 55th floors, which will be connected by a glass staircase. With a gym, spin studio, boxing gym, virtual golf room, private dining room, catering kitchen, business centre, children's playroom, two cinemas, spa and beauty salon, tenants never have to leave their homes. The gallery located on the 52nd floor promises a rotating collection of contemporary art, while the lookout on the 55th floor promises an infinity pool, sky bar and loggia, as well as a sun terrace with cabins. If you want to have fun sailing, there is a private deep draft marina, the only one in downtown Miami.
Signature Collection owners also have the restless Aston Martin DB11 Coupe or DBX Riverwalk Edition at their disposal, along with priority access to the marina and butler services. Meanwhile, the new penthouses come with private pools, gyms and service rooms. Interior renders present minimalist elements of white marble and floor-to-ceiling windows with a superb view of the bay.
The building, located on the shores of central Miami, where the river of the same name joins the bay, is the first residential project of the Aston Martin brand, which will reportedly be the tallest residential property south of New York.