Gwyneth Paltrow is one of the most talked about celebrities, because she always has a way to get in the centre of attention of the worldwide media...
The 49-year-old actress is one of those women who, when the cameras go off, like to rest and relax in her personal space. Her house in California, which she shares with her husband, Brad Falchuk, functions as her personal refuge. It is a dream home, which gives the feeling of a modern palace, and has a way to take us to another age, full of luxury, where high aesthetics has the main word. It should be noted that the actress renovated the house for six years.
Opening the doors of this amazing house, what impresses us from the first moment is the fact that each of the spaces exudes a feeling of warmth and unpretentious luxury. Simple and modern lines play a leading role.
A short tour of the house shows that all the spaces are really nicely lit, and that everything is so neat and correctly placed, which reveals the knowledge of the design studio Roman & Williams, who took over the design of the house. Dedicated to simple materials, Gwyneth wanted a pleasant environment that would radiate joy and optimism.
The combination of natural elements, with modern pieces that reveal the future in decoration, were the original idea of ​​Paltrow, which was realized by the architectural bureau and the result is simply wonderful. Wooden and marble surfaces blend in so nicely with the rest of the decor and building materials. In fact, in the whole natural and modern theme that prevails, there are the necessary luxury details, which upgrade the decor and give an unpretentiously impressive and well-appointed character.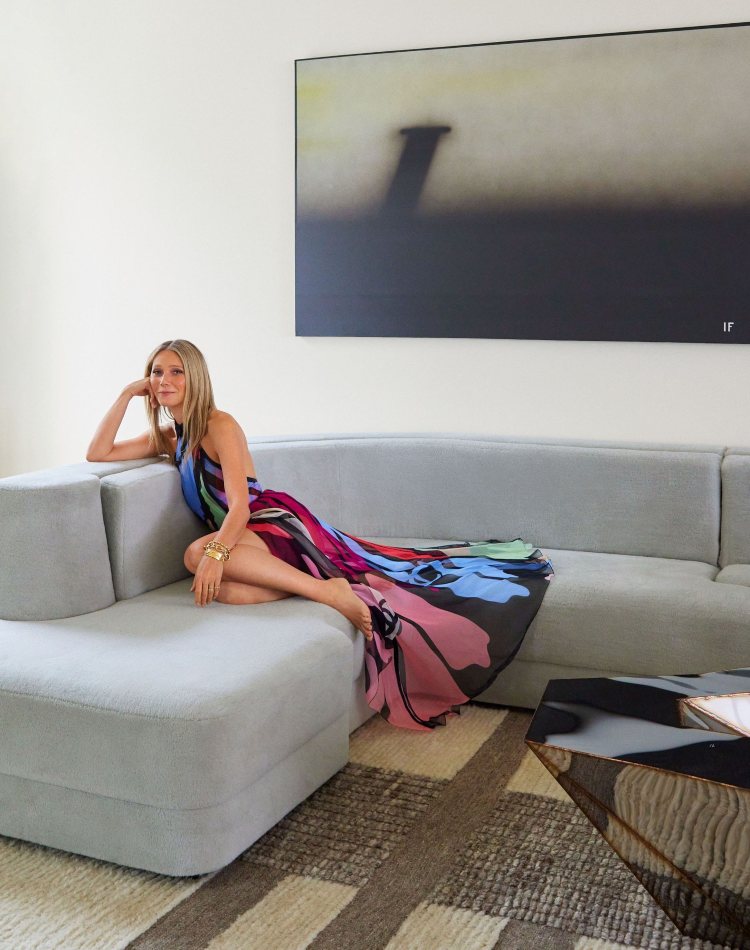 From the outside of the house, we see that modernism meets modern luxury and refined functionality in the most elegant way. Green grassy areas serve for endless hours of relaxation in the shade of tall trees, there is a large pool with deck chairs, as well as additional space that is often used for events that the actress organizes on special occasions.
A similar design philosophy has been used in interiors. Spaces full of colours, glam details that enhance the feeling of luxury make the house really look huge, while functional furniture and modern works of art uniquely decorate the walls and surfaces and are just some of the elements that arouse our interest.
"The power of home lies in the subtle nuances of light and space," says Paltrow. "We spent a lot of time assessing family standards, how we really live, what makes us feel comfortable. We focused on our experiences in this house, but also on our strongest emotions, "she added.
Browse the gallery to discover more photos!