The unique luxury egg will be a symphony of 007's past, present and future...
Luxury jewellery house Faberge has announced a new partnership with James Bond, in which they will create a unique item that marks 60 years of the film franchise. During the celebration of six decades since the release of the first James Bond film, Dr. No premiering in 1962, as well as the 180th anniversary of the Faberge brand, the project will be undertaken by head of design Liisa Tallgren, together with the brand's creative director.
While the details of the Faberge x 007 egg are being kept tightly under wraps, the house said it will be a "symphony of past, present and future", including Bond and Faberge icons, with a special emphasis on the famous spy gadgets. Those looking for further clues can find them in the "Game of Thrones" egg that Faberge presented in 2021, inspired by dragons. The 18k white gold, enamel and diamond shell opens to reveal a second intricate inner shell which in turn opens to reveal a ruby ​​and diamond crown that can be worn as a ring or necklace.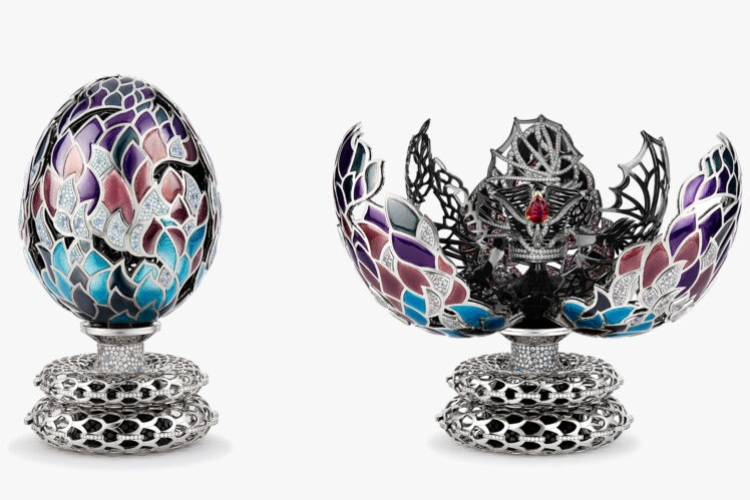 There will also be plenty of time for speculation, and the final artwork won't be revealed until 2023, which marks the 40th anniversary of the release of 1983's Octopussy as a fitting tribute to the film that had a plot centred around the theft of a Fabergé egg.
And, while this may seem like a distant future, Faberge team has already begun work on the Bond egg, with initial designs indicating it will feature the most technically advanced opening mechanism the brand has ever created. Of course, since this is a Faberge egg, it's also fair to assume that it will feature a dazzling array of intricate precious metals and incredible gems.
However, unlike many houses that prefer to keep such unique items in their archives, Faberge has already confirmed that the egg will go on sale. According to the brand, the egg "will appeal to collectors and enthusiasts around the world and represents an incredibly rare opportunity to invest in and own a piece inspired by film history."
Don't be surprised to see the price go into seven figures.