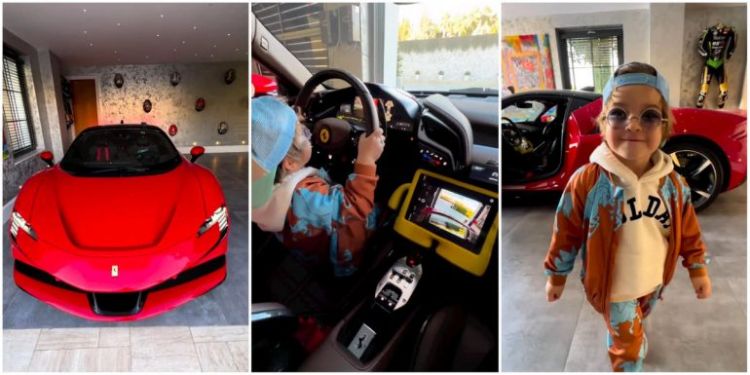 You've probably heard several times by now how experts from the automotive world say that supercars have become so easy to drive that even a child can drive them...
Although it's just a figure of speech often used to emphasize the evolution of supercars, the three-year-old we're talking about today proves that it's not all that metaphorical. Meet Zayn Sofuoğlu, a boy from Turkey who is making every four-wheeler's dream come true at just three years old, which is why we can definitely declare him the cutest, and possibly the youngest, car influencer on the internet right now. Zayn has become an internet sensation by performing stunts that seem almost impossible even for kids much older than himself. Of course, those stunts are filmed by his parents and posted on his personal Instagram account, which at the time of writing has over 880,000 followers. In his latest venture, the three-year-old drove his father's Ferrari SF 90 Stradale all by himself, showing off some incredible driving skills.
Of course, the law does not allow three-year-olds to drive motor vehicles on public roads anywhere in the world, so Zayn enjoys his fun on his parents' property. Fashionably dressed like a true internet celebrity, this kid uses a chain to open a garage door before jumping into a Ferrari. Of course, Zayn is too small to reach the pedals and look over the wheel at the same time, and to solve this problem, he uses a GoPro camera attached to the roof of the Ferrari, with a live feed via a tablet that has found its place on the centre console. He's so tiny it looks like he's hanging off the steering wheel, but despite that, he flawlessly steers this supercar through the narrows of his parents' property, before perfectly and quite effortlessly parking it back in the garage.
His father is an award-winning racer
If you're surprised by Zayn's superhuman driving skills, you should know that it's in his blood. Zayn is the son of Kenan Sofuoğlu, a retired motor racing driver from Turkey who has five Supersport World Championship titles to his name. This award-winning motorcyclist is known for performing incredible stunts himself, and a few years ago he managed to set the world record for the fastest production motorcycle, reaching an incredible speed of 400 km/h on his personal Kawasaki Ninja H2R superbike.
Zayn's incredible driving skills are not limited to the Ferrari SF 90 Stradale. In addition to this $550,000 car, Zayn can be seen enjoying riding massive motorcycles, ATVs, go-karts, and on one occasion piloting a POV drone. A few weeks ago, the three-year-old was filmed driving a Honda Gold Wing that weighs almost 450 kilograms and is powered by a huge 1800 cc engine. Fortunately, the gigantic engine has a DCT automatic transmission, which made it easier for Zayn to enjoy it because he didn't have to think about changing gears. Although this venture was carried out in an area that we associate with a racetrack and under the supervision of his father, who faced not so positive comments.
Kenan Sofuoğlu, a member of parliament and the ruling Justice and Development Party, has so far not allowed these criticisms to diminish the enjoyment of his son and himself. In one of the shots, Zayn drives the EQS electric luxury sedan, which is quite massive, and he steers it with ease by relying on the car's camera. If that's not enough to get you excited, know that this kid also drove a Yamaha side-by-side ATV in one video, as well as a Mercedes EV.
In the video, which is described as "Like father, like son", Zayn and his dad can be seen riding quads in the yard, circling a tree on two wheels. Zayn makes everything he does seem so easy, but according to his parents, he was doing these feats before he even learned to walk properly. In addition to driving cars like a true champion, Zayn enjoys other adventure activities such as sand-boarding, scuba diving and water skiing, while he also likes to help his dad while fixing motorbikes.
Finally, we have to admit – Zayn is our new favourite influencer! We suggest you visit his Instagram profile immediately