Since its initial launch in 2017, Samsung's Frame TV has had two goals - to entertain customers with its spectacular image and improve their interior decor...
Such features became even more prominent earlier this year, since when it became possible to enjoy the best television experience, either in portrait or landscape mode. This year's edition of the celebrated Frame TV line will be able to rotate. While the vast majority of video content is available in wide-format, this unique screen setting can be used for little more than broadcasting your latest series.
Samsung has long promoted the Frame TV as something more than a classic TV because of its innovative features, exclusive to 43-inch models, and it officially is. This rotation feature may not seem too useful for many at the moment, unless someone like TikTok, for example, launches vertically formatted streaming services in the future, but until then, this TV can get a slightly smarter use value and serve as a perfect platform to present works of art.
For this reason, Frame TVs are compatible with Samsung's Art Store app, a service that features more than 1,400 carefully selected pieces of art, which can be downloaded from the Internet and placed on display. Samsung sincerely hopes that soon some segment of the television industry will start covering portrait screen modes, but this is not the company's first rotating model, as this feature was first introduced in the Sero line, during 2019.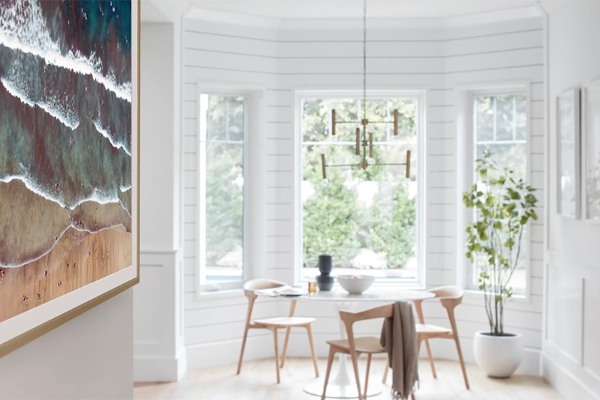 Rotation capability, however, is not the only new feature that the line of refreshed Frame TVs has received. In the new edition, the TV will be much thinner than the previous reinterpretation, measuring only 24.9 millimeters in thickness, which is identical to the average photo frame. The TV case will be available in five colors - white, black, red, brown and beige, as well as two styles, modern and rounded, to better fit into the decor of your home. The new line comes with an updated artificial intelligence system, which can help its customers choose one of the Art Store works of art.
Samsung has not yet announced the prices of its new Frame TV, but its market placement can be expected this spring. If its price is at odds with previous models, then we can expect it in the range of 600 to 2,800 dollars. Information on the sizes of the new Frame line has also not been made public, but if we rely on last year's release, it will probably bring us six models that range from 33 to 75 inches.