Swiss company Urwerk is one of the best watch manufacturers known for its conceptual models, which, despite their futuristic aspects, never neglected tradition during the process of their creation...
The new version of the UR-100 model of this brand, received a successor in the form of the UR-100V T-Rex model, whose name of prehistoric predator is the main theme of the design, although the entire case along with the mechanism got completely futuristic style. To add a primary feel, the case is created from a strong, but above all, beautiful bronze alloy.
Measuring 41 mm, the new watch has a unique claw-like sphere, which emphasizes the designer textures of the interior. No ordinary bronze was used during the creation of the new watch, and the company's team opted for a special alloy, which results in a darker, somewhat more properly patinated look. The case has a diamond-shaped surface all over its exterior, cut precisely with a computerized machine, in order to create its reptilian facade. This space around the mechanism was then polished to give it a natural-like patina and to make it look as if it had recently been extracted from an archeological site.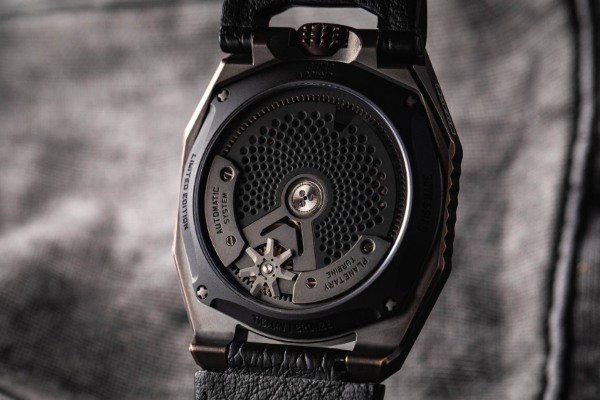 Positioned behind a domed spherical crystal at the top, the face of the watch has a tonal appearance with an index segment rendered in neon green, for greater clarity and the required color accent. The interior of the watch has beautiful satellite indicators, three of which represent four hours, rotating on a triple carousel, with each satellite equipped with a red pointer on a sixty-minute scale, designed to show our planet's journey through space during that period. Together, this mechanical ballet is in charge of representing the orbit of cosmic bodies in miniature.
The back of the watch features a comparatively stunning aesthetics, modeled with PVD coated titanium, with deep black finishes and subtle engravings around the parameter. This helps protect the automatic mechanism of the UR 12.02 model, equipped with 40 gems and 48 hours of reserve power.
The UR-100V T-Rex model from Urwerk is limited to a production line of just 22 pieces, each available for $ 56,239.