Giuseppe Zanotti presents the latest version of the legendary sneaker: Cobras, Gold Edition.
The snake has always been the main source of inspiration for the legendary designer Giuseppe Zanotti, and this has always been reflected in his luxurious footwear collections. The long-standing symbol of power and transformation was boldly brought to life for the first time in a sneaker that premiered during Milan Fashion Week in September 2021.
"I have always loved the symbolism of the snake," says Giuseppe Zanotti. "It's a powerful and dynamic motif that I've explored in many collections, but never before on a sneaker. For Cobras, I wanted to bring the majesty of the snake into street culture. I wanted the sneakers to look simply fantastic."
The sneaker debuted last year in four tone-on-tone iterations (pink, red, black and white), and this fall, the designer is shedding the leather to make way for the new king of street style.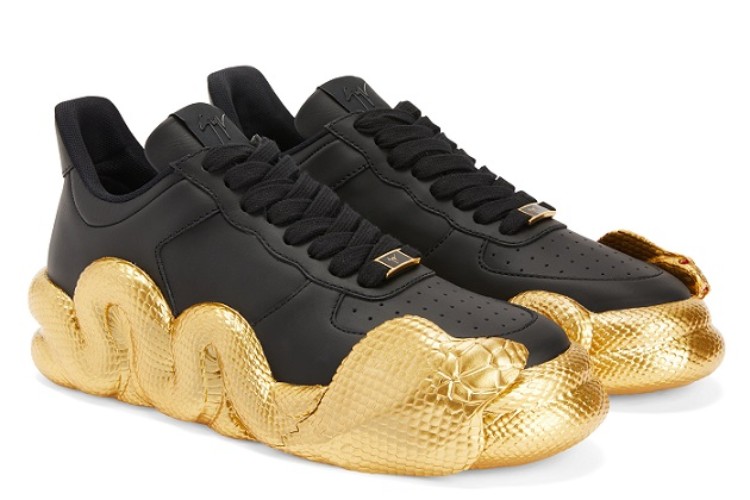 Like the original sneaker, the Cobras, Gold Edition features a 3D cobra that wraps around the body of the shoe, with the head of the snake cunningly placed on top of the toe. However, the exclusive new style takes it a step further with a snake motif coated in an elegant gold patina. A stark contrast to optical white or black leather, the gold-plated new tread transforms the sneaker into a sort of modern talisman: legendary, bold and empowered with confidence and swagger.
From its sculpted gold body, crystal-encrusted eyes, to the gilded snake pattern that reappears on the sole, the Cobras Gold Edition sneaker is akin to a phoenix rising to new heights.
"For this special new edition, I wanted to evoke even more power - almost regal, long-lasting and precious, a kind of unearthed ancient relic reinvented for new times," says Giuseppe Zanotti about the new design, which has already won over fans of the eccentric sneaker.