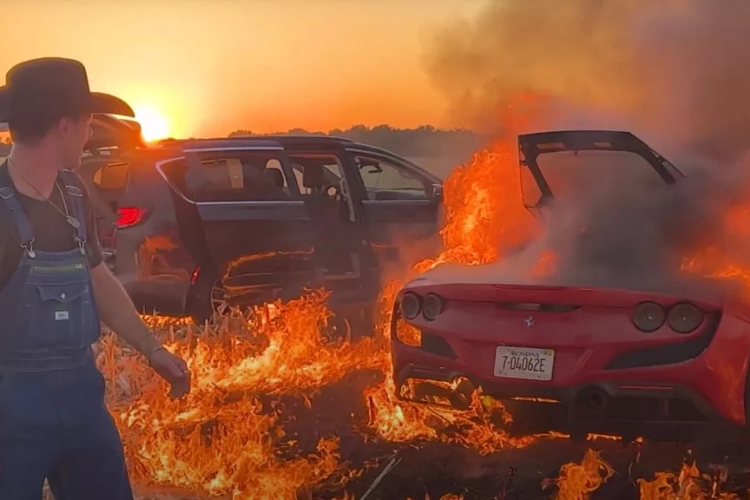 The popular Youtuber behind the WhistlinDiesel channel has gained fame by performing stunts and creating incredible special projects...
He has also become synonymous with destroying cars, and now his mistreatment of vehicles has claimed two more victims, a Ferrari F8 Tributo and a rented Chrysler Pacifica model. However, the damage to the cars this time is total and irreparable.
In a segment of the series where he tests the durability of the Ferrari F8 model, the Youtuber headed to the Texas town of Waco to take this expensive mid-engine exotic model for a spin through a cornfield. It seemed like this guy was having a great time, and despite the fact that the famous Italian car manufacturer did not envision the F8 being driven like this, it seemed like the car was holding up perfectly well under the conditions. At least it appeared that way until things took a sudden turn for the worse.
While driving, the team filming in the Pacifica model noticed flames coming from the rear of the car. The Youtuber quickly stopped the Ferrari and jumped out along with his passenger and everyone else in the Chrysler model accompanying him. Apparently, the fire ignited in the exhaust area and quickly spread, engulfing the rear passenger-side wheel. Unfortunately, none of those present had water or a fire extinguisher on hand, so despite their best efforts, which included dousing the fire with Red Bull and Gatorade refreshing drinks, the fire rapidly began to spread and ruthlessly claimed its victims.
A few seconds later, the fire also engulfed the Pacifica model, but it appears that the fire did not spread directly from the Ferrari model. Instead, the car likely caught fire due to the heat from the engine and exhaust system left above the dry plants in the field. Everyone present quickly realized that there was no chance of containing the blaze in time, so they moved away from the two cars while simultaneously contacting the local fire department.
Five fire brigades arrived at the scene a few minutes later, responding swiftly to contain the fire that had started to spread through the cornfield. However, despite their best efforts, these people were unable to save these two cars.