Vintage fashion and silhouettes are returning to the catwalks, and who can better show these stylings than the most famous supermodel of the 70's?
While fashion houses revive and refresh some of their cult creations, the muses of the past years are returning to the centre of attention. Saint Laurent was the place where it all started for the legendary Jerry Hall during the 70's. A personification of glamor, Hall wore the famous designer suit at her first catwalk show. She was also the face of the provocative Opium Perfume Yves Saint Laurent campaign from 1977, photographed by Helmut Newton.
We are rewinding up to 2021, and Hall has once again become the face of the Parisian fashion house, leading the brand's campaign for spring / summer 2022 in selected pieces from the collection created by Anthony Vacarello.
In the advertising photos, Hall wears a draped plush jumpsuit with long sleeves and a matching belt that has a tubular gold button. Slightly exaggerated shoulders and the brilliance of the belt added a touch of 80s rock'n'roll glamor to the look. Created from luxury plush that was popular in the 60's and 70's (also back in the 90's), Saint Laurent gives the heavy fabric a lighter, more modern look with this sexy silhouette clinging to the skin reminiscent of the popular "catsuit".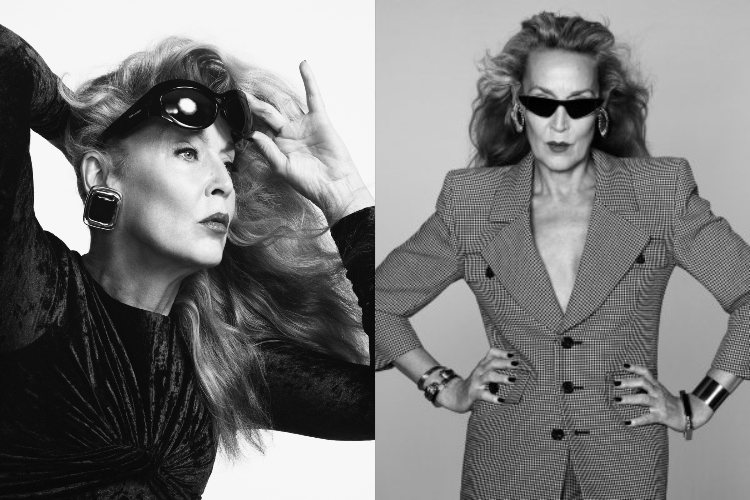 The jumpsuit may be something that has entered the wardrobes of many fashion enthusiasts in recent years, but this is also an item of clothing that has significance for the house of Saint Laurent and debuted in the collection for spring / summer 1986.
Hall also presents fashion accessories from the new collection - a pair of large, square earrings and cat-eye sunglasses, which were also popular during the seventies.
Saint Laurent will always be synonymous with including aspects of men's clothing in women's wardrobe. Probably the legendary creation of its founder is the tuxedo - Le Smoking, which debuted in 1966.
The main source of inspiration for Anthony Vacarello in creating this collection was Paloma Picasso - the muse of the legendary creator. Much of the collection focuses on men's cuts, as Picasso liked, but the sensuality of Saint Laurent is still noticeable, and Jerry Hall is the best ambassador of vintage trends.