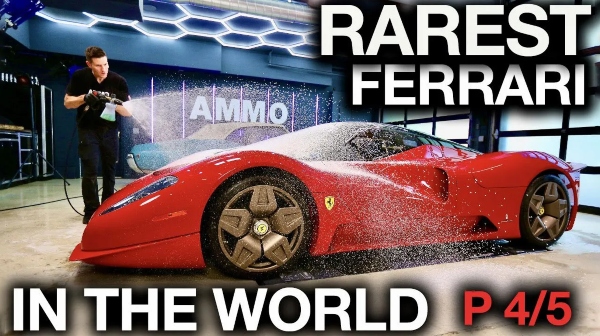 When you buy an expensive car and spend a few million on it, be prepared to spend at least a tenth of that amount on its maintenance…
Because, after all, cars that come in limited editions, with fabulously high prices, must be kept, cared for and pampered, since they represent a kind of investment, with value of which can only increase. You will not drive them to ordinary car washes, or God forbid an automated car wash that can damage your pet on four wheels with its brushes and detergents unknown to you.
Then, when an expensive car gets dirty or you just want it to shine, you need to find experts who will know how to treat it and treat it the right way. Ammo NYC car wash is famous for taking care of rare, unique or otherwise interesting cars, sharing with us this painstaking and diligent process on its YouTube channel. The last car they dealt with could be the rarest so far, and it is a Ferrari P4 / 5 by Pininfarina.
And while there is certainly some innate pleasure in watching the experts perform this process, the video gives us incredible access to the interior of this unique vehicle, which we unquestionably have not had so far.
Designed by Pininfarina for James Glickenhaus, this model got an exterior inspired by Ferrari sports models from the late sixties, such as the 330 P4. It is the only Ferrari ever constructed without the explicit knowledge of the famous brand, and it was created as a result of James Glickenhouse's answer to the question of what he would like if he could have anything in the world.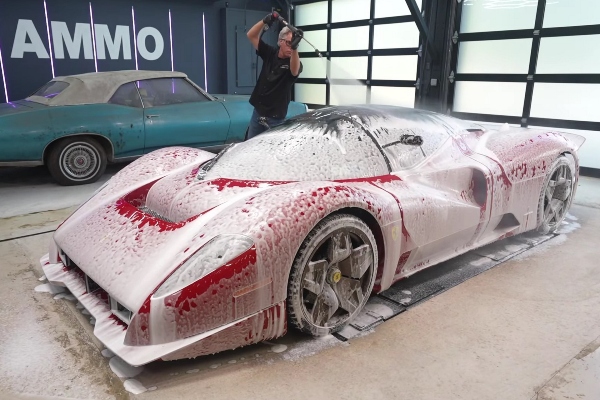 "My father immediately said that he would construct the P4 Ferrari, i.e. its modern version, on the chassis of a newer super car. Originally, it didn't have to be on the Enzo chassis, we also watched the MC-12, we watched a number of purebred racing chassis, but we wanted it to be street legal and the best way to achieve that is to start the story with the existing one, street legal model. That's how it all started, "explains Jesse Glickenhaus, James' son.
Ultimately, the P4 / 5 is very similar to the Enzo model under the hood, but its 6.0-liter V12 engine produces a tad more power compared to the factory version. Thanks to certain modifications, it produces 650 horsepower, which allows it to accelerate from zero to 100 kilometres per hour in exactly three seconds, with a maximum speed of 374 kilometres per hour.
Fortunately, although this model is unique, it is actually used, which can be noticed by the details we see during its arrangement. In a car like that, you should definitely enjoy the open road, not just the garage.