Supercar Blondie is probably one of the happiest people on the planet, at least when it comes to car lovers…
In addition to driving the latest and greatest cars on the market, the famous influencer often receives invitations from numerous brands to try out and see their amazing concept models. A few years ago, Sergio Galliano from her team got an exclusive opportunity to grab one of the Mercedes-Benz Vision AVTR concepts, while in her latest video, Alexandra Hirsch, or Supercar Blondie, received an invitation from the Lamborghini brand to meet their Terzo Millennio concept first hand, first presented in 2017. However, while filming her material in front of a beautiful church somewhere in Italy, the influencer received a ticket from the police!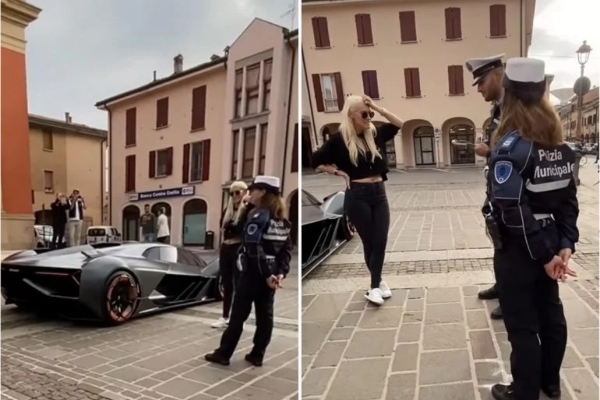 The video she posted on her Facebook page shows her interrupting filming due to the arrival of two police officers, who informed her that parking was prohibited in front of the church, for which she immediately apologized. One of the police officers who wrote her the ticket tried to find the license plate of this model, but he only entered Lamborghini in that field, because it was nowhere in sight. The concept also has no wipers for which the police would hang a fine, so they simply left it on the windshield. However, as it turned out, all this was a joke of the Lamborghini brand, which they carried out in cooperation with the police! "Lamborghini called their friends from the local police to make a little joke with me," said the famous influencer.
Some say that this is a pre-arranged video, in order to achieve as much popularity as possible, and since people also fake much bigger events in their lives for the sake of reviews and likes, we cannot be sure. In any case, the Terzo Millennio concept is reason enough to watch this video. Developed with the help of the MIT Institute, this car got a number of interesting options - instead of heavy batteries, it is powered by super capacitors, while its body is also capable of storing energy, and it is made of self-healing carbon!