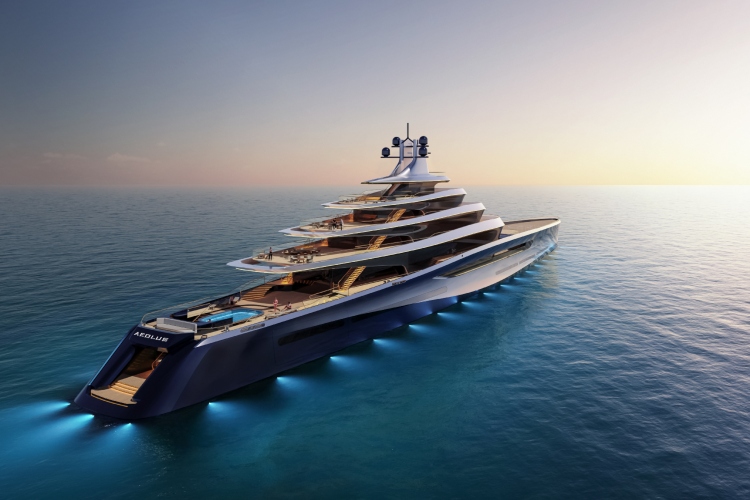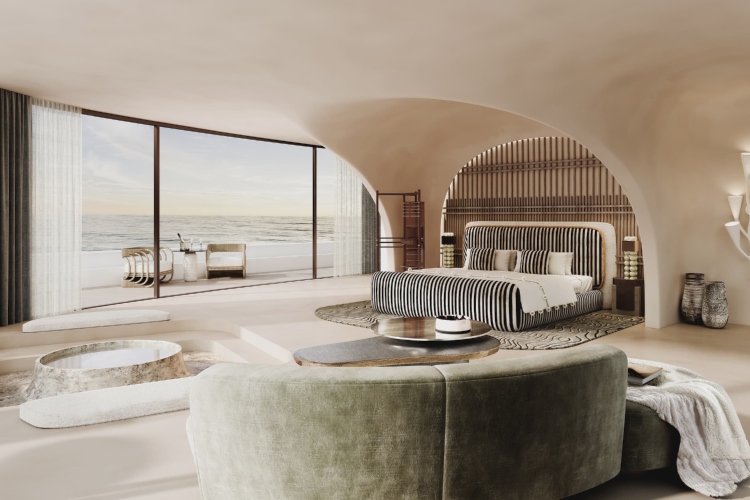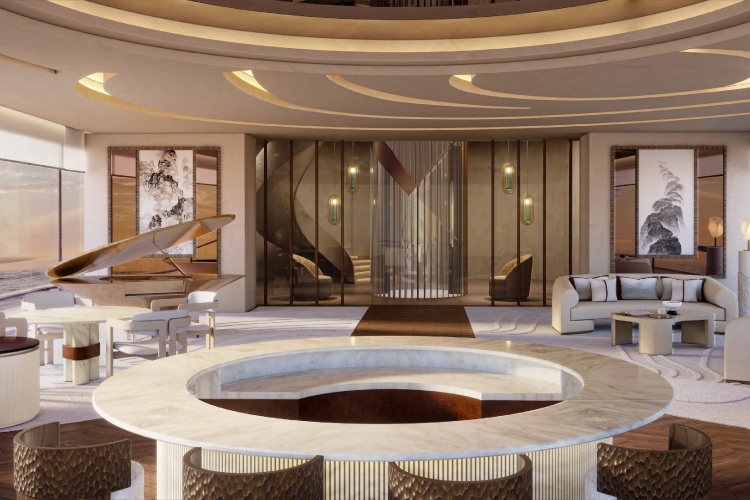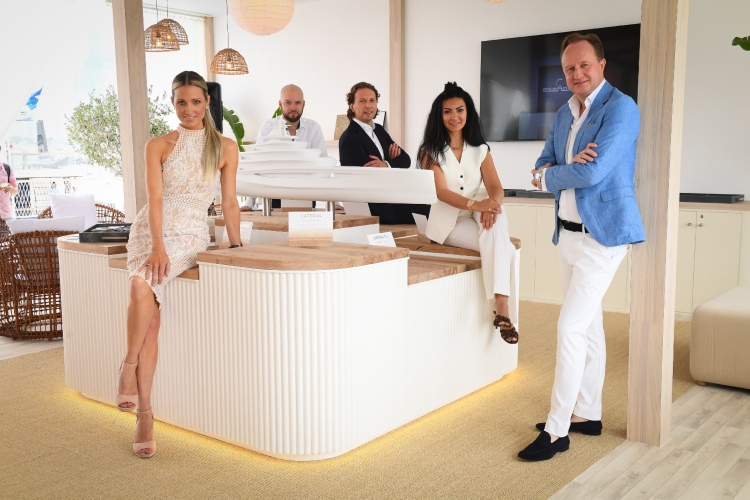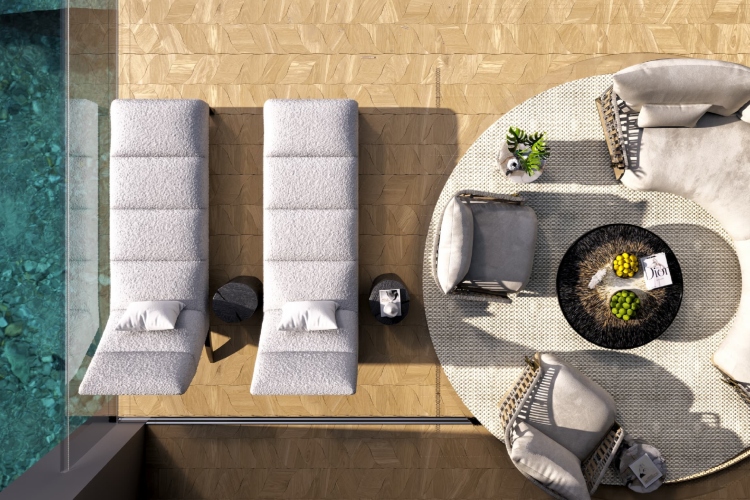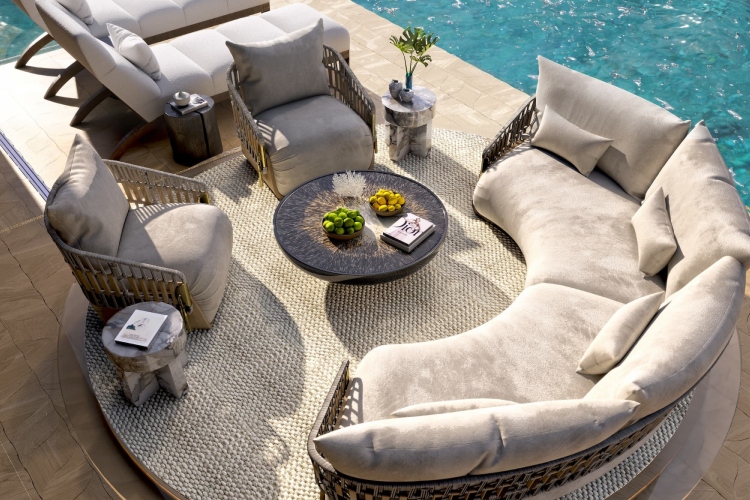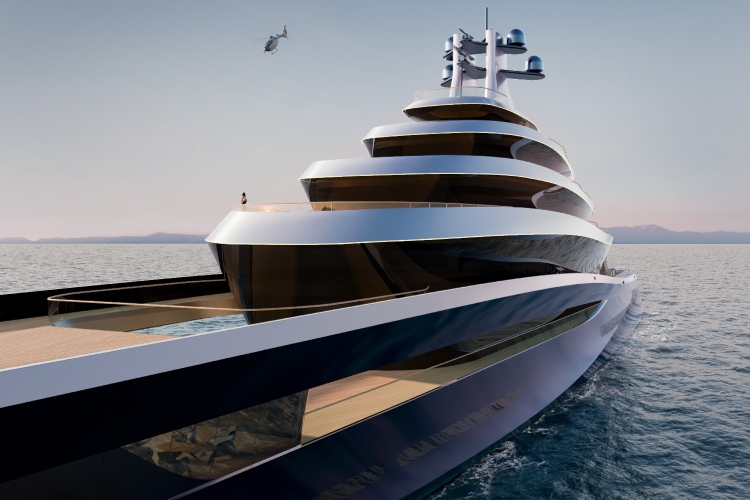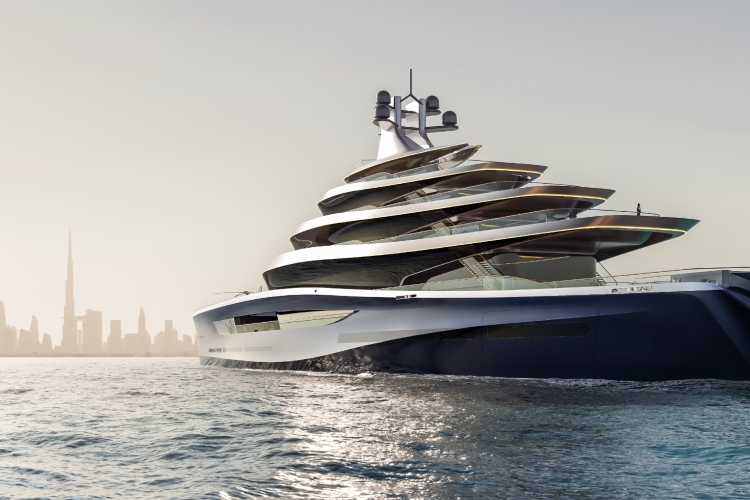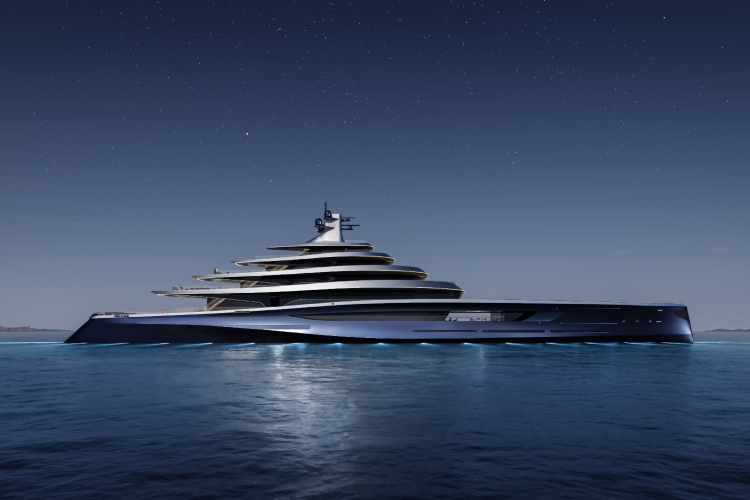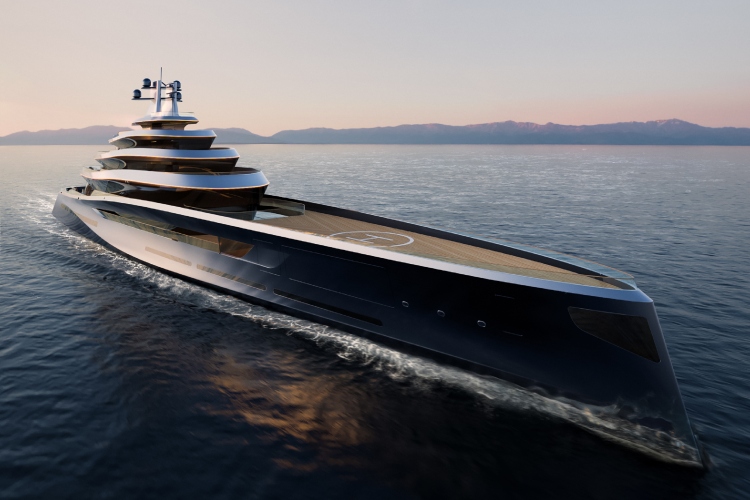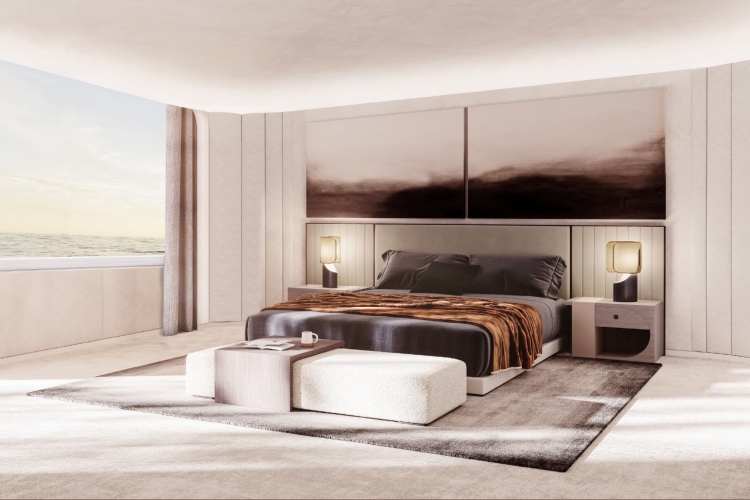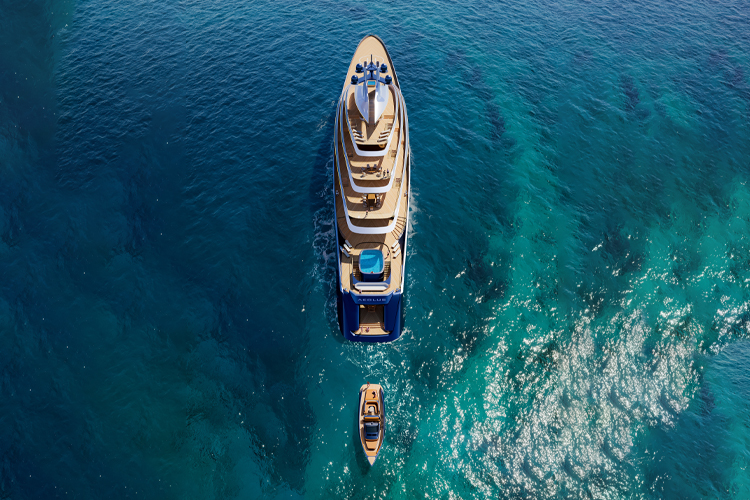 Imagine yourself on a floating Eden, elegantly and delicately shaped by the winds, offering you a design with depth and perfect equilibrium...
Reflecting how we unwind, connect, and navigate in the modern world, this yacht seamlessly transitions between destinations and lifestyles. Named after the Greek god of the winds, Aeolus, the yacht in question assumes a feminine form as the spectacular newcomer from Oceanco. It resonates on a profound level, speaking to us like a beautifully designed car or a piece of music. It is opulent, yet not ostentatious. Confident, yet not arrogant. Provocative, yet not boastful.
Aeolus heralds a new era of seafaring. With its long bow and aft-facing superstructure, composed of three distinct living spaces, it presents an exceptionally elegant relationship and a feeling of pure, nature-inspired modernity.
Emerging from the creative mind of Giles Taylor, in collaboration with Oceanco shipyard and interior designers from Njord by Bergman Design House, Aeolus' innovative design resonates with creative minds, visionary leaders, innovators, and profound thinkers—those who are image-conscious yet deeply private, motivated to enact significant change in the world while staying out of the limelight.
Aeolus stands at the intersection of grand elegance and structural efficiency, achieving a captivating balance between feminine curves and a masculine presence. At its heart lies a reference to the J-class sailing yachts of the past century, embodying the ultimate harmony between ocean and wind force, offering an experience on the water that no other yacht can provide.
Its hull launches two dynamic thrust arches forward, framing a magnificent sea view. Feel closer to nature while practicing morning exercises or socializing at a cocktail party as the sun sets, savoring truly intimate moments and settings. The unique benefit of panoramic viewing and access to the hull design opens up space that is typically enclosed and often unused for apartments.
Its three distinct, glass-lined, tiered decks invite you to actively engage with the seascape. Socialize, host, dine, and revel in private moments shared only with the ever-present horizon. Effortlessly glide through capsule-like shapes to the owner's private oasis, where Aeolus truly connects with passengers like no other.
Aeolus' design highlights its exterior, capturing the romance of sailing the seas. These generous exterior spaces elegantly merge with the interior, encouraging reflection and inspiration. Simultaneously sensual and timeless, organic and sustainable, its interior is a space where art, body, and nature intertwine.
Magnificent, versatile spaces are intuitively designed to make the yacht's interior welcoming and expansive, devoid of restrictive boundaries. By exploring the relationship between form and space, its creators have conceived it with a desire to coexist with the ocean and landscape. Visually, the interior manifests through a fusion of tonal textures and unexpected forms, balancing a palette that adorns both minimal and maximal silhouettes.
Aeolus is an excellent choice if you view your floating home as a natural, private haven and maritime sanctuary. It features ample staterooms for your family and cherished guests while ensuring your luxury master suite delivers the finest view.
The unique private owner's deck, complete with a bar and relaxation area above, can be exclusively yours or open for gatherings, depending on your desires. Within this extraordinary hideaway, a realm for relaxation or business has been crafted; the ocean view is shared solely with you, offering the utmost private space for contemplating the shape of the world, both now and in the future.
Below, or the upper deck, houses the master suite with its unobstructed panoramic views, an enchanting bathtub, and a private corner for contemplation. The aft upper deck is dedicated to a multi-functional space for relaxation, guest dinners, or business functions; entirely glazed, with stunning views, it boasts a symmetrical layout reminiscent of the grand ocean liners of the Golden Age. Imagine sipping aperitifs on the aft deck, dining al fresco, with a remarkable indoor space to retreat to as temperatures drop after sunset.
The main deck features an elegantly integrated pool and relaxation space aft, with steps leading to the beach club. The first entry point onto Aeolus is the main deck salon, with stairs leading to an internal atrium, serving as a dining area, a guest reception area, and a venue for cocktails or business gatherings. Two guest suites are situated forward on the main deck, adjacent to the gym and an exterior atrium, which is open from above and offers far-reaching views on both sides, right beside the ocean.
Two VIP suites and two guest suites are located on the lower deck, a short distance from the spacious, multi-purpose beach club with fold-down terraces that offer exquisite relaxation choices in intimate, comfortable seating. This space can adapt to any mood, from an afternoon poolside party to a more formal evening event; its bar sits beneath a skylight window above the pool, while the adjacent private area can be tailored to various needs.
All decks are connected by a central lift and stairs leading down to the beach club, where tenders await to ferry you and your guests ashore.
Aeolus fully aligns with Oceanco's NXT initiative, signifying harmony with evolving environmental perspectives as well as lifestyle trends. It demonstrates that the authentic sustainability of the future is also beautiful and stylish, not only in its technical capacities but also in the materials utilized onboard.
Aeolus' interior features a potent design language, utilizing sustainable and traceable materials at its core, including biomaterials. Its creators have chosen an array of advanced suppliers to outfit it in the most sustainable and versatile manner possible. Its interior will incorporate Desserto, premium vegan leather made from cacti that have a positive climate impact. The bedding onboard will be sourced from Oliveri Homes, exclusively using Global Organic Textile Standard cotton and non-toxic processes and dyes for their materials. This collaboration in creating a habitat of the future begins with the Aeolus yacht, but its potential is limitless both on land and water.
Together with technical partners ABB and MTU, Oceanco and Lateral have developed an adaptable architecture to pave the way for a net-zero future.
In this case, the ship's future also entails future-proofing, allowing informed choices of layout, configuration, technology, and specifications that will circumvent obsolescence during the expected lifespan of the vessel. Every ship built today must bridge the energy transition, a period of significant changes in available fuel types and related technologies. This requires adaptable technical architecture capable of accommodating changes in layout, configuration, and specifications necessary to integrate future technologies and alternative fuels in a minimally invasive way.
Lateral and Oceanco have developed an Energy Transition Platform (ETP) to allow multiple technical pathways to be tracked as technologies mature over time. Aeolus is configured in its initial form to be the best on the market today.