Vanquish Superyachts surprised us right after revealing the rendering of their VQ115 Veloce yacht, which is currently in construction and 35 metres long…
Even before its owner gets to test her in the open sea, we already know that VQ115 Veloce will be one of the fastest aluminium superyachts! A powerful trio of MTU-Rolls-Royce 2650 engines with surface drivers will give her a top speed of over 50 knots. This superyacht is sporty on the inside and outside, in accordance with the brand DNA. According to Boat International, her exterior has a slender hull and an integrated fly bridge, thanks to Guido de Groot design company.
According to the shipyard, VQ115 Veloce will "provide large groups of people a place to have fun, enjoy themselves and engage in a broad variety of water sports". This vessel has a really remarkable interior appearance. All the decks are divided between flexible main saloon, main cabin and VIP guest cabins, which have their own bathrooms. There is a wide use of nautical combinations, which are soothing and sporty at the same time. Practicality enters this game with incorporation of self-standing furniture pieces which can be moved if need be.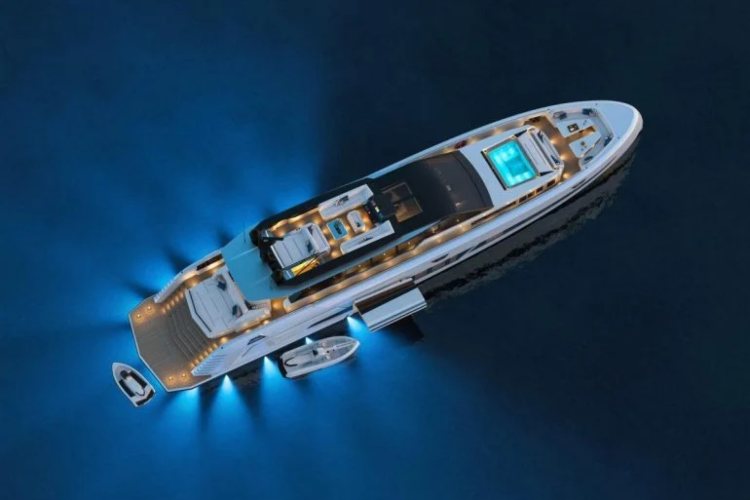 Movie lovers will have amazing fun in a special media room, which includes a big screen TV and top-notch sound system, for those nights when you just want to curl up with your loved one and your favourite movie. This room contains two Pullman beds which turn the space into the fourth cabin. There's also a dedicated office space, in accordance with "working from home" philosophy, to which we've gotten used to in the past few years. The office space has a neat storage unit with its own cocktail bar, as well as a living room.
The front deck is suitable for social engagements with a large seating space. Here, you can enjoy sunny days on the sunbeds or rejuvenate yourselves in the salt water jacuzzi.
VQ115 also has enough room for a garage, where the unique VQ11 water scooter will find its place, along with many other water toys.