Harrison Eidsgaard has just unveiled a new royal gem in the world of expedition yachts…
The new concept was named Rex, which translated from Latin means king, which is quite suitable for a 127-meter-long ship, which got a regal exterior that immediately attracts all our attention, along with a royal array of amenities.
The British design studio designed this boat for a client who knew he wanted something completely different, so the typical superyacht, with all its conveniences, was taken to a completely new level.
The owner's apartment proves our claim - it consists of four private terraces, two Jacuzzis and a private gym. Ten guest suites are located in the central part of the yacht and come with their own private terraces and direct access to the front and atrium stairs.
When sailing on this yacht, passengers can enjoy the amazing scenery - the yacht is crowned by the Panorama Lodge, which offers a superb view, an observation lodge with access to the Jacuzzi and a submerged space called the Neptune Lodge, which gives you insight into events under the open sea.
In addition, all passengers have access to amazing amenities. On the main deck there is a large pool that can be closed with glass, so you can enjoy swimming, even when you are in the colder parts of the world. There is also a large cinema, a two-story gym and spa area, as well as numerous sun loungers to enjoy.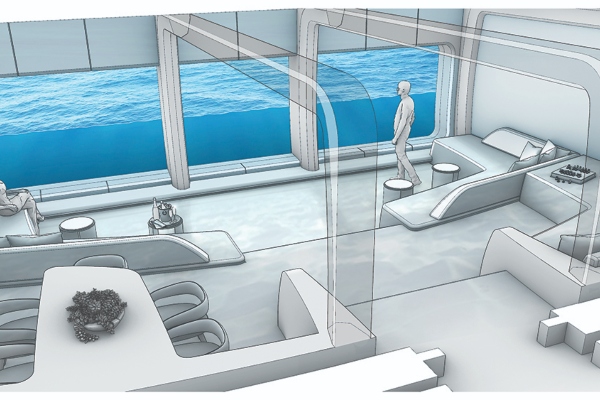 On this yacht, a bulky helicopter hangar finds its place, which can accommodate the Airbus A160, and it can be transformed into a squash court when the need arises. There is also a smaller heliport. The ship is also equipped with a tender garage, as well as a large crane for deploying water toys.
When it comes to performance, Rex has been given a sharp bow for greater spending efficiency. Harrison Eidsgaard studio is imagining this yacht with hybrid propulsion, which could be transformed into hydrogen in the future.
At first glance, we can say that the sea got its new king.