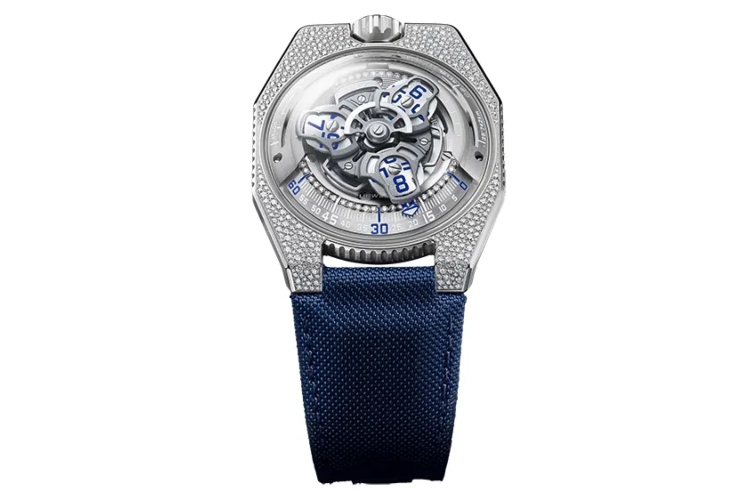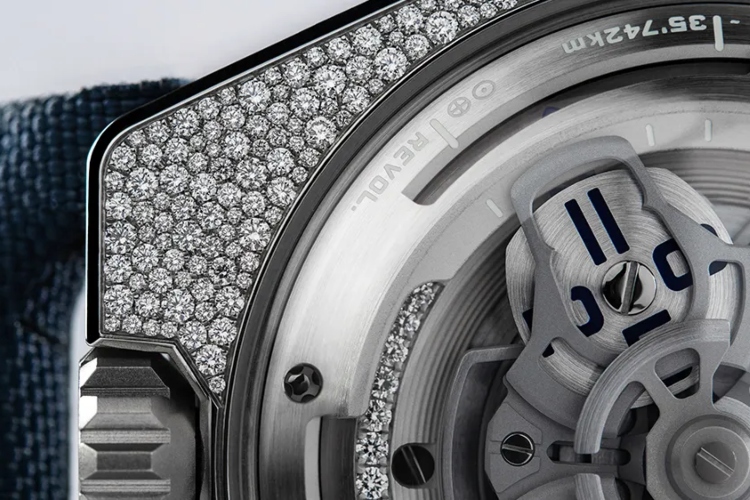 Urwerk aims to take the main ornament of our wrists to the universe...
The Swiss watchmaker has just unveiled a new timepiece called the UR-100V Stardust, adorned with 400 tiny diamonds. This watch joins the 100 collection of the famous brand, displaying satellite hours and minutes on a skeletonized dial. And like other models in the series, it allows space enthusiasts to observe Earth's interstellar journey in a unique way.
Each of the showcased diamonds has been selected from eight different sizes to embellish the case of this model, leaving only the edges undecorated. According to the manufacturer, setting the diamonds in a "snowfall" style was challenging due to the steel base, which requires more careful craftsmanship than with gold alternatives. The result is a mosaic of diamonds set in a smooth-to-the-touch pattern. Beneath the crystal dome, the minute scale is adorned with 36 diamonds, while 24 decorate the watch's crown. An additional 22 diamonds are set on the steel buckle of the watch. The diamonds are VVS1 D-certified for colour and total nearly 1.90 carats of pure carbon.
"We wanted a setting reminiscent of the starry sky, without uniformity, more like organized chaos. The size of the diamonds wasn't as important to us as their arrangement, this almost random design," says Felix Baumgartner, master watchmaker and co-founder of the Urwerk brand in a statement. Martin Frei, the brand's artistic director and co-founder, also speaks about the watch's name: "It's crazy to think that we, as human beings, are made of this celestial substance. That's why the nickname Stardust, logically connected to the setting of this UR-100V, also relates to the watch itself and its future owner."
Beyond the constellation of diamonds, the new UR-100V model features two recesses on the sides of its satellite displays. One, of the two kilometre counters represents the distance Earth has travelled on its axis in 20 minutes (554 kilometres). The other counter, on the other hand, displays the distance Earth has travelled around the Sun during the same period (35,750 kilometres). The self-winding UR 12.02 movement powers this model with a frequency of 28,800 vibrations per hour and provides a power reserve of 48 hours. The "Baltimore blue" canvas strap completes the entire creation.
The UR-100V Stardust is limited to only 10 pieces per year. If you're quick enough, you can purchase it for $99,423 when it becomes available on Tuesday, August 29.