The most expensive Christmas sweater in the world is encrusted with diamonds and woven with 24-carat gold thread.
Many people see holidays as an excuse to splurge money and have fun. Giving you the opportunity to do just that is Aidan Liban, artist based in London, who designed the most expensive ugly Christmas sweater decorated with diamonds and gold threads. Per information given by the artist himself, he spent his life savings on his creation and now, he wants to sell the sweater for 39.859 dollars.
The luxury sweater features a reindeer design adorned with silver stars studded with diamonds, 24-carat gold thread, Italian silk lining and covered in thousands of Swarovski crystals, while it took 3.000 hours and a lot of effort to create it.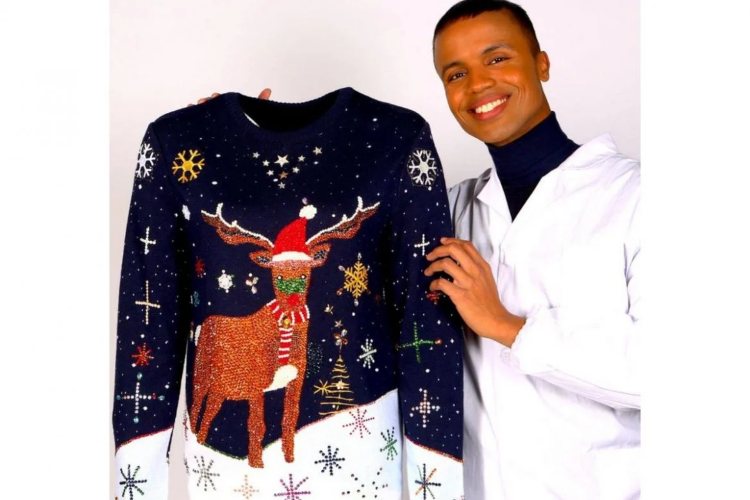 The idea to make an expensive sweater came to the designer during the isolation when he lived alone. He procured 24-carat silk in a specialized French shop, while 150 diamonds came from specialist Hutton Garden. Completing the entire project cost him $ 9,300.
While the main part of the sweater is made of wool and cotton, the inside is lined with beautiful silk. Moreover, diamonds have small flaws, while reindeer has a Swarovski gold medallion around their necks.
Commenting on his work, the artist said in a statement: "I had a vision and I realized it. I wanted to make something magnificent and attractive - which I did… I improvised a lot while creating the sweater and where each element should go."
"Christmas sweaters have never been in my family tradition, so I wanted to do it with style. Whoever buys this sweater can wear it, but the sweater cannot be washed because it is so delicate. The time it took me to design and create it is a major factor in the high cost. I only had time to work on it in the evenings and on weekends. I'm broke now, so I have to sell it. I think it's worth every penny, "the designer added.
Liban, who also works as a celebrity stylist, hopes to sell the sweater for the price of five digits, and even donate part of the money.
For those interested, the sweater is currently available for sale on the artist's website.