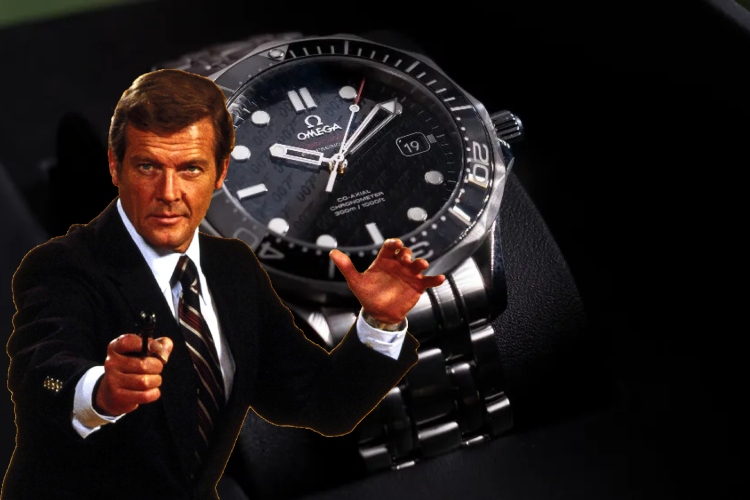 Among the most prized items was a collection of Swatch 007 and two Omega watches.
James Bond's watches are undoubtedly among the most recognizable props in popular culture. This year marks the 50th anniversary of the legendary Roger Moore's first appearance as 007. Moore was the third actor to portray the famous secret agent in this film franchise; his first Bond film, "Live and Let Die," premiered in 1973. In honour of this acclaimed actor and his legacy as 007, Bonhams auction house organized a special auction, selling his personal collection of Bond memorabilia, collectibles, and other souvenirs. Among the most coveted items was a collection of twenty Swatch 007 watches and two Omega models.
Omega didn't become the official watch of 007 until 1995, many years after Roger Moore played Bond. However, this brand has since become synonymous with the secret agent, so it's no surprise that the actor had several of these watches in his collection.
The standout timepiece was the limited edition Seamaster James Bond 50th Anniversary, which sold for almost double its estimated value, over $70,000. Another model was the Omega Speedmaster with a triple calendar and Moon phase with a personal engraving dedicated to Sir Roger Moore, which sold for eight times the estimated price, nearly $75,000.
However, the highest value in Moore's collection was a series of twenty Swatch 007 watches in a special 007 case, dedicated to Sir Roger Moore for the 40th anniversary of James Bond in film. This unique collection sold for over three times the estimated amount, over $92,000.
In total, Sir Roger Moore's personal collection, consisting of 224 items, fetched over $1 million, while the resale estimate was around $500,000. As Moore was a passionate UNICEF ambassador, his family decided to donate a portion of the proceeds from the sale to this humanitarian organization