Hermes has managed to get its place under the sun in the world of luxury watches, which no other brand will ever be able to take away from them, thanks to the unique inspiration behind each of their models…
Their métiers d'art dials reproduce the popular designs of their famous silk scarves, many of which were created by top artists. It is a skill that defines Hermes as much as their heritage in the world of leather goods, and it can be even the most demanding. Reproducing the design of one scarf on a miniature dial is not only based on scaling and transferring the design, as Arceau Three Graces proves, which is actually an intriguing creation of a wooden marquetry, created with 195 pieces of wood, surrounded by a miniature painting, above the aventurine glass back.
This dial is created over several weeks, and it all starts with a marquetry artist, who carefully selects pieces of wood based on type, grain, color and texture. The combination of American chestnut and maple is mostly used, either in a naturally dark, colored or bleached form. Then, the pieces are carved, and the giraffe adorning the dial is assembled from pieces, like a puzzle. The final phase includes gluing, sandblasting and applying a protective varnish.
A detailed view of the leaves surrounding the giraffe is hand-painted above the aventurine, a hand-made glass with melted pieces of copper, for a glittering effect. The remaining layers are applied with thin brushes, and then dried in a blast furnace. The dial is framed with 82 diamonds, which find their place in the base.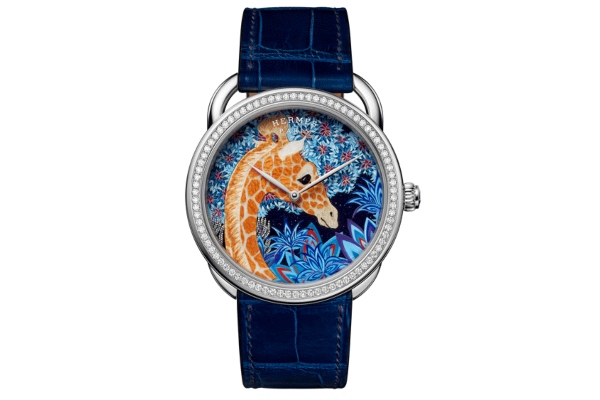 The name of the watch, The Three Graces, evokes a vision of the three fertility goddesses of Greek and Roman mythology, painted by numerous artists, including Botticelli. However, in this case, the title is a reference to the grace of the natural world. It is a reinterpretation of a silk scarf designed by the artist, Alice Shirley last year, and was inspired by a trip through South Africa, when she saw three giraffes, partially sheltered by an acacia tree.
The watch is powered by an automatic Hermes Caliber H1912, which measures hours and minutes, has a power reserve of fifty hours and comes with a sapphire colored alligator strap. Limited to only 24 pieces, this watch reveals its price, as expected, only on request.