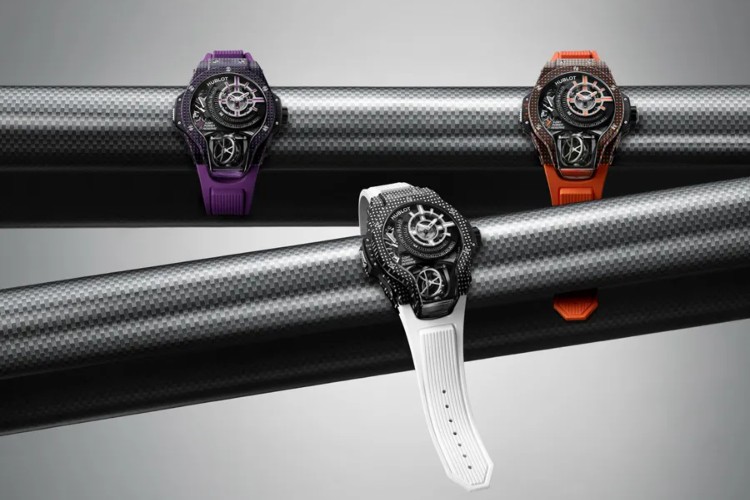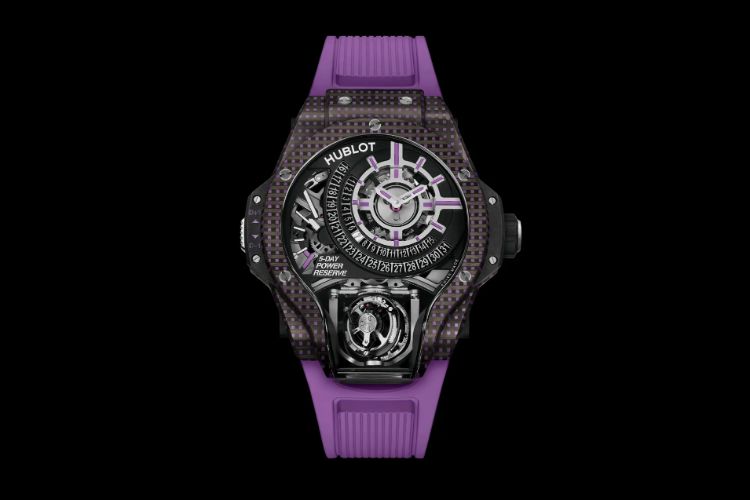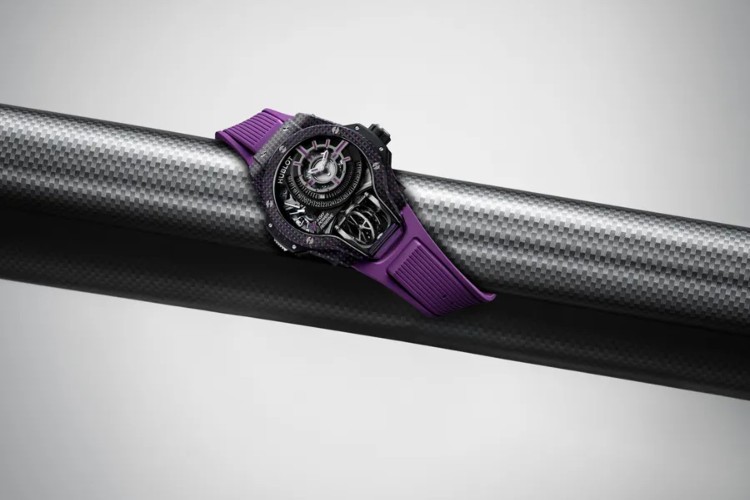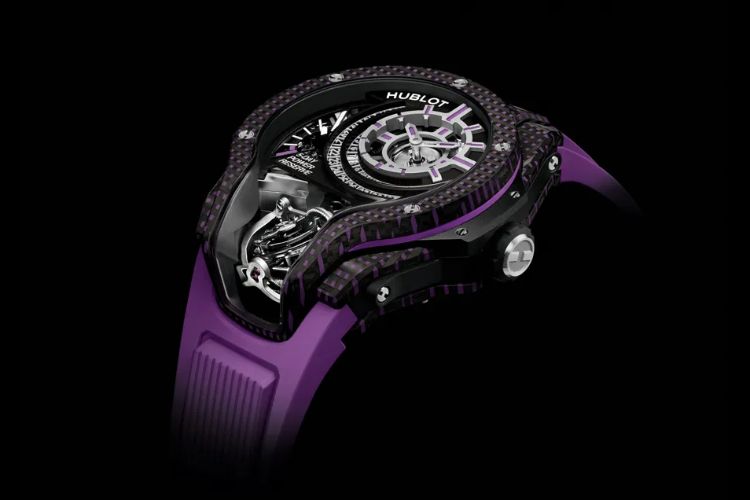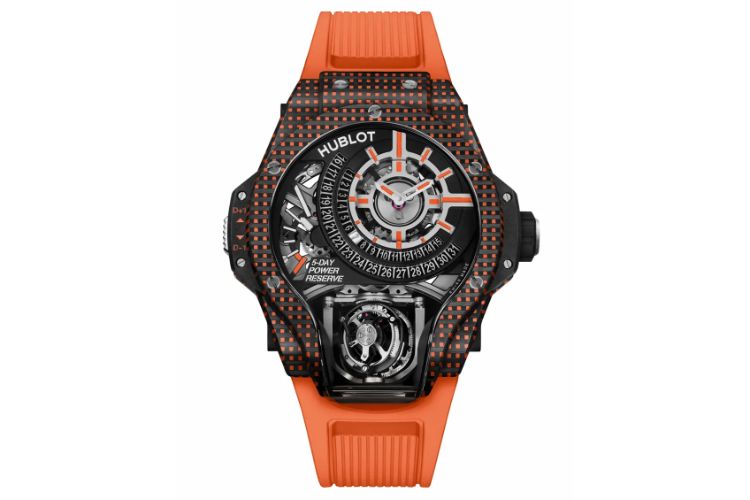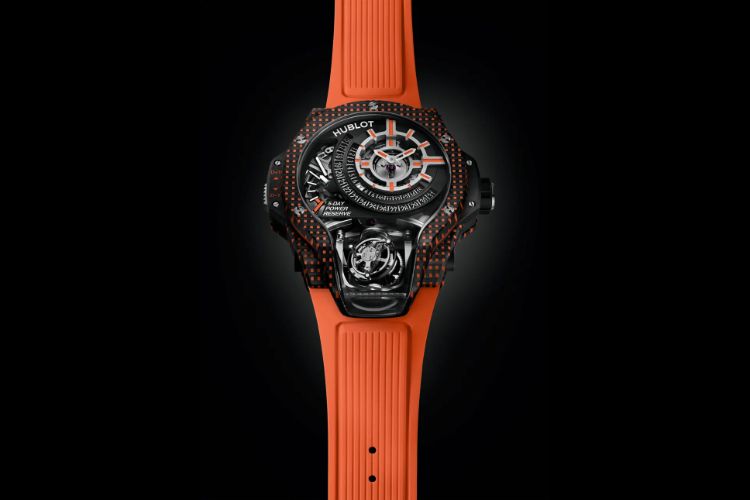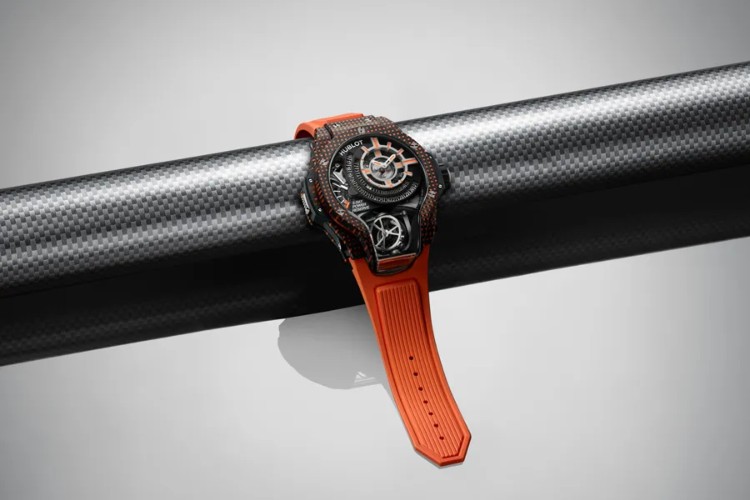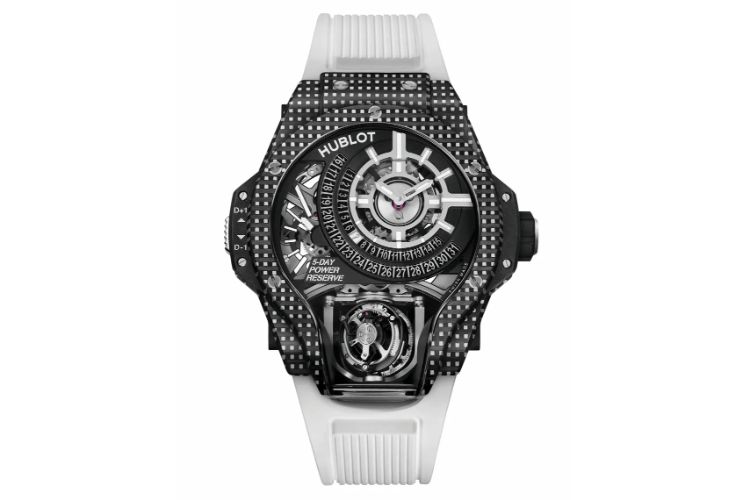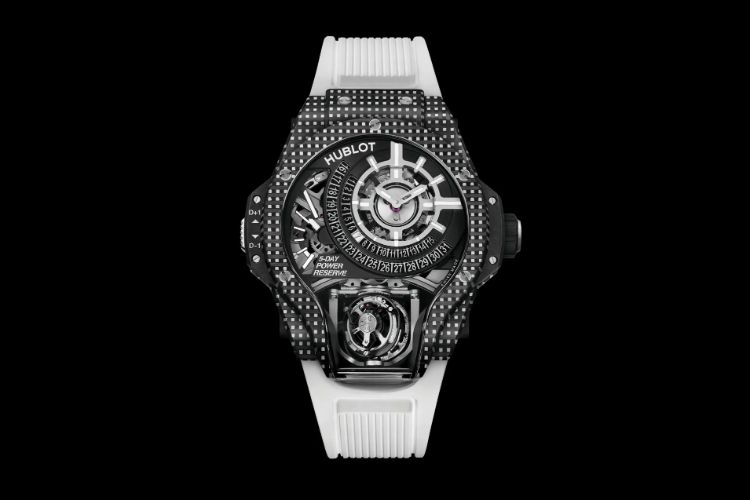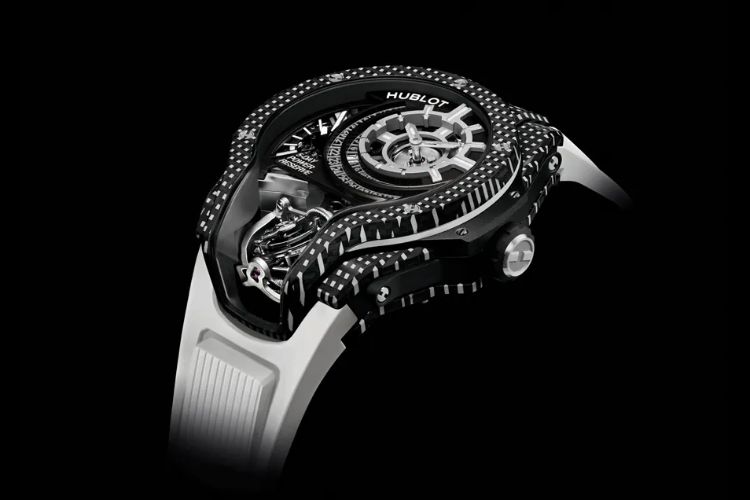 The latest Hublot line for 2023 features a trio of new Hublot MP-09 Tourbillon Bi-Axis watches that are made of white, orange and purple 3D carbon.
Actually, Hublot MP-09 is not a new watch. The basic design debuted back in 2017, and coloured carbon fibre editions exist as early as 2021. While many Hublot watches can be categorized as technologically advanced models with six-figure price tags, the MP series represents this sentiment taken to the extreme, and the carbon fibre editions of brightly coloured Hublot MP-09 Tourbillon Bi-Axis 5 Days Power Reserve look like hi-tech wristwatches.
Although orange and purple were featured to their rainbow edition launched last year, the white version of this latest trio of models represents a new colour that hasn't appeared on any MP-09 watch before. Aside from the new colours, the actual structure of the 3D Carbon is identical to what can be found on other versions of the MP-09, and instead of being made from forged carbon (which is cheaper to manufacture and results in a natural wave pattern throughout its structure), it uses Hublot 3D Carbon which essentially consists of thin carbon rods sandwiched between a coloured composite, resulting in a geometric grid or checkered pattern. The fact that the colour extends to the case itself makes these new editions seem a bit more unique than if they were all just dial variations of the same model.
However, from a technical perspective, these three new Hublot MP-09 Tourbillon Bi-Axis watches are the same as their predecessors, which means they have the same 49mm diameter carbon fibre case with a large three-dimensional sapphire crystal that visibly surfaces at the 6 o'clock position hours to display the two-axis tourbillon movement. Similarly, just like their siblings, the cases of these new models feature a rubberized winding crown at 3 o'clock, a date correction switch on the side of the case opposite it at 9 o'clock, a caseback that is screwed down and offers a view of the movement, and 30 meters of water resistance. Additionally, unlike last year's rainbow version that was equipped with a leather strap, the new trio of carbon fibre Hublot MP-09 models come with matching rubber straps that further lend themselves to their colours.
Since the primary focus of these Hublot MP-09 Tourbillon Bi-Axis watches is on case materials and mechanics, the dials offer a mostly skeletonized design. However, each of the different coloured models also has its designated colour on its hands, hour markers and power reserve indicators. Additionally, the overall design is exactly the same as the other coloured 3D carbon MP-09 models, with an off-centre dial flanked by an arched date display, along with a power reserve indicator at 9 o'clock and the model's distinctive dual-axis tourbillon springing from bottom at the 6 o'clock position. Apart from these three main elements, the rest of the dial is open to reveal the inner mechanics of the watch.
Just like their predecessors, the new trio of Hublot MP-09 Tourbillon Bi-Axis 3D Carbon watches are powered by the in-house HUB9009.H1.RA hand-wound movement. In addition to running at a frequency of 21,600 vph (3 Hz) with a power reserve of approximately 120 hours (5 days), the HUB9009.H1.RA also features a dual-axis tourbillon, an arched date display with its own independent adjustment switch, and a large power reserve indicator of power located to the left of the wheel. Although Hublot makes a number of movements that feature a tourbillon at the heart of their display, the HUB9009.H1.RA is one of the most technologically advanced and impressive, and has been the calibre chosen to power the MP-09 series since it was first introduced in 2017.
Despite the different colours, the new white (ref. 909.KDV.1120.RKS), orange (ref. 909.KDO.1120.RKS) and purple (ref. 909.KDV.1120.RKS) versions of the Hublot MP-09 Tourbillon Bi The -Axis 3D Carbon costs the same as their single-color predecessors, meaning they each come with an official retail price of $200,000 (making them $11,000 cheaper than the rainbow edition of the watch that appeared last year). However, just like the long and previous monochrome variation of the 3D Carbon MP-09, each of these new colourways will be produced as a limited edition of just 8 pieces worldwide. Although the multi-coloured sapphire Hublot models are our personal favour when it comes to the brand's six-figure price watches, it's undeniable that the MP-09 series offers some of the boldest and most modern designs currently available, while still showcasing the same fun and playfulness inherent in many Hublot creations.