Photo: Andreas Fahrni
Love on the first taste
Top Swiss Chef Christian Kuchler, the proud owner of two Michelin stars and as many as 18 Gault & Millau chef's caps, has designed a completely new gastronomic direction for one of the most beautiful hotels in Croatia, the Art Nouveau Boutique Hotel Alhambra located in the fairytale bay Čikat on the island of Lošinj...
This young and creative Chef, owner of the Taverne zum Schäfli restaurant in Switzerland, chose the luxury group Lošinj Hotels & Villas and the collaboration with the CEO of the hotel group, the Swiss Peter Schoch, for the place where, in collaboration with Chef Michael Gollenz, he created completely new menu and enchanted us with his culinary skills.
Peter Schoch, Christian Kuchler and Michael Gollenz
In a relaxed and friendly atmosphere, we enjoyed a pleasant conversation with Christian, overlooking the turquoise sea, after the presentation of the new concept of the signature restaurant Alfred Keller, located in one of the top 10 best hotels in Europe, which is a full member of Small Luxury Hotels of the World.
Christian, can you tell us a little more about yourself? What motivated you to become a Chef?
Christian: The restaurant environment is in a way part of me, my identity. I practically grew up in a restaurant run by my parents for 32 years and already as a boy, I helped my father in the kitchen, from washing dishes, preparing vegetables, etc.… It became clear a long time ago in which direction my life journey would go, because for me there was simply no other option. The kitchen has always been my home.
How did your career bring you to the island of Losinj? How do you feel here? Do you like the energy of this island, the people?
Christian: It's great on the island of Lošinj! When I first came here, I was so delighted with the Čikat bay, the beautiful nature, the smells, the air that is completely different here, all the hotels of the Lošinj Hotels & Villas brand, the offer, groceries and everything! And it all started when the CEO of Jadranka Tourism, Peter Schoch, called me and said: "Christian, I have a new, fantastic project for you. We want to raise the Boutique Hotel Alhambra to a higher level. " And when I first came here to visit, I told Peter, "This looks like the World Cup final to me. The referee gives you a penalty in the 89th minute, and it's up to you to send the ball straight into the goal. " It sounds simple, but it's not quite like that. Still, it's worth every second. This is a really beautiful hotel, amazing sea view of Čikat bay, but also great staff, which is very, very important.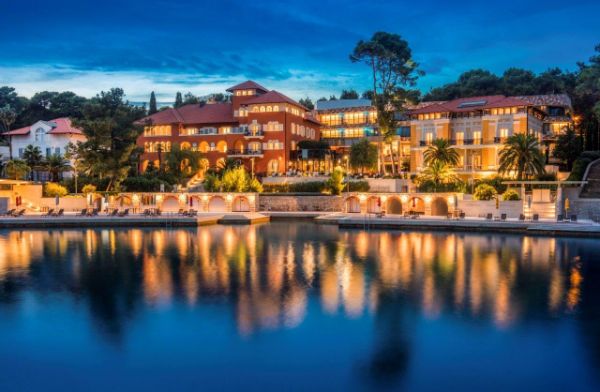 Boutique Hotel Alhambra
Sounds like the perfect combination, all in one place!
Christian: Yes! I am lucky to do all this with a great team, because the process of choosing the right collaborators requires time and care. But I have a really good feeling because in collaboration with local manufacturers and suppliers we get the best products from the region.
There is a lot of Asian influence and spice in your kitchen. Is Asia your main source of inspiration or do you like to experiment with different things and thus create incredibly delicious dishes?
Christian: In my career, I've worked almost exclusively with chefs of classic French cuisine. You know, French cuisine is very demanding, there are a lot of details so if you take some light spices from Asia, such as ginger, lemongrass or anything else, it can make classic French dishes lighter. Such a combination of French cuisine with Asian spices is very good.
I like, for example, to make Beijing duck in combination with French cuisine. Or when, for example, I go to Copenhagen, I really like to eat Nordic cuisine. And when I came here, to Lošinj, I was comparing the quality of shrimp in Copenhagen and Lošinj. I would venture to say that they are of better quality here after all. You can really put together a dish that is a mix of several different cuisines.
You are only 36 years old and already have two Michelin stars. Is there a special recipe for your success?
Christian: It would be best if you asked my guests that (laughs). They are the ones who evaluate the success or failure of my work. In addition, every successful man needs a strong woman behind him. That is the living truth. You need to have someone with you to have your back, but also someone to push you to give 150 percent of yourself.
How much more effort and imagination do you need to get to the three Michelin stars?
Christian: It depends on a lot of factors. One of them is investments. My restaurant Taverne zum Schäfli is the only restaurant in Switzerland with two Michelin stars that does not have a hotel or a large investor behind it. Money, effort, hard work, it's all my investment. Of course, the awards are a wonderful confirmation for me and my small team, but the most important thing is that we can offer guests an unforgettable experience, and for me as a self-employed person, of course, that guests come again. On the other hand, if I want to go a step further, for a new star, we need more staff, so that I have more time to focus on new dishes, new experiences. At the moment we have a lot more work to do than room for creativity.
You also partially gave me the answer to the following question. What makes a dish truly exceptional? What is your favorite dish and favorite spice?
Christian: My favorite dish is duck liver, and the spice, I would say Piment d'Espelette. It is a special kind of pepper, very similar to chilli.
Do you think the coronavirus pandemic has changed the way people view restaurants and the kitchen?
Christian: I don't think it's going to be good if we don't open restaurants. Just imagine the last time people were in restaurants. I remember when my co-worker in charge of finances told me, "Christian, how did you do it? You were closed for two months and 2020 was your best year so far, and you worked two months less." I told him I didn't know, although I believe that people tried to make up for going out to restaurants and decided to enjoy their favorite dishes in the safety of their homes.
We see you as an artist and food designer. How do you see yourself?
Christian: For me, function in the kitchen doesn't matter much. The effort and work of an individual are much more important to me.
But people love to see beauty on their plate and your dishes look spectacular. They really are real poetry for our senses of taste and smell, while at the same time they are tempting to look at.
Christian: True, but the center of my plate is flavors. Although there is always a certain taste that I want to emphasize in a particular dish, it is important that all the nuances on the plate match.
Do you have any big plans for the future? Can you share them with us?
Christian: I have one big project, which should be realized in some 5-6 years. At the same time, there is my family, wife, two small children…
And finally, did you find any new spice you work with in the kitchen on Lošinj?
Christian: Yes, pine needles, or pine needle syrup. We can use it for everything, food, drinks, liqueurs, teas…
Author: Mina Sreco
Photo: LH&V